Your energy level can be a major indicator of the state of your health and well-being.
In Traditional Chinese Medicine (TCM) the concept of chi, or energy, is synonymous with life itself; hence, it is also referred to as our life force—the body's vital energy. While chi is invisible there is a physical manifestation of chi, also known as wei chi. In Western terms the wei chi can be likened to immune system function.
TCM has an ancient system for identifying the stages of a person's imbalance—illness and disease can be classified based on the degree to which the body's defenses are compromised. This is known as "the Pattern of Four Stages".
The first level of defense is the wei chi
The second level refers to the invisible force (chi), which flows through the body's energy channels (meridians)
The third level is represented by the blood
The forth level consists of the organs
In Chinese philosophy there is an emphasis on being mindful and having an understanding of one's state of balance. An awareness of one's physical, mental, emotional and spiritual states offers insights into one's health and well-being. Imbalance can be easily corrected when it is a slight imbalance. By paying attention, one can better support their natural flow of chi and avoid a deeper imbalance.
One can think of wei chi imbalance as a warning sign from the body that something needs to change – the first level of defense has been compromised, and further levels will become penetrated if no changes occur. Lack of energy is a common symptom that indicates a wei chi imbalance (the immune system is in overdrive).
Over time one may become more susceptible to illnesses, digestive issues, or more chronic fatigue. The severity and duration of the fatigue, as well as the cause, can indicate if the issue has penetrated a deeper level. In general, if symptoms become more wide-spread, it is a good indication that the chi level has been seriously compromised.
From a Western standpoint, fatigue can be a temporary problem or a more chronic health condition. In general, fatigue is extremely common and also a necessary experience in life. Fatigue is so common, that about one in four people suffer from fatigue not associated with any medical conditions. Essential to our survival, fatigue is associated with behaviors that promote homeostasis (our body's balance) such as signaling a need for rest after a hard work-out or sleepiness after mental exertion. When it comes to acute illnesses, fatigue (leading to lack of inactivity) is our body's way of conserving energy and enables us to focus on healing.
If you have been suffering with extreme or long-term fatigue, then it may be a good idea to consult a qualified health professional to address your specific experience. The causes of fatigue can vary widely, and there may be some underlying causes such as: chronic pain, Lyme's disease, thyroid issues (particularly in women), Epstein-Barr virus, or depression; all of which, indicates a need for a professional evaluation and treatment.
Some causes of general fatigue include: lack of sleep, poor diet (lack of nutrients, food sensitivities, blood sugar imbalance), stress (which can lead to adrenal fatigue—as our adrenals are responsible for producing stress hormones), or even just a lack of movement.
It is important to note that some people who suffer from low energy as a result of stress are in need of a more calming replenishment, as opposed to others who are in need of more stimulating remedies. These more stimulating remedies may create more anxiousness in the over-stressed, "jittery" individual; while they may help motivate those whose lack of energy is more generalized.
The good news is that when it comes to a holistic treatment for general fatigue there is a plethora of lifestyle practices and natural remedies available that may help boost one's energy.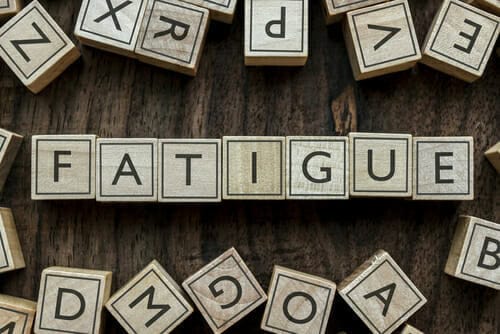 Five Tips for Abundant Natural Energy
1. Reclaim Your Circadian Rhythms
Circadian rhythms display the relationship between our internal workings and the external world. This term comes from the Latin words "circa" and "diem," which translates to "around" and "day"—literally meaning "about a day." Our circadian rhythm functions based on a twenty-four-hour cycle. This phenomenon is commonly referred to as our biological clock-work.
When functioning properly, our circadian rhythm knows when to go to sleep at night, when to wake, when to eat, and when to perform endocrinal and hormonal functions in the body.
You may be aware that there have been clear indications that night shift workers and flight attendants are at higher risks of cardiovascular disease, obesity, cancer, and diabetes. They are also more prone to fatigue. This is linked to the dysregulated circadian rhythm function.
Supporting one's natural rhythms helps the body function optimally. Natural energy is a result of this deep balance.
Some ways to support your circadian rhythm includes:
Embrace a schedule: Going to bed and waking at the same time each day, as well as eating meals at the same time each day, will help support your body's innate rhythm and functioning.
Spend time outside: Especially spending time in the morning sunlight hours and the evening sunset hours helps to regulate your internal clock. Some suggestions: go for a walk, read outside, garden, etc.
Avoid screen time before bed: This one is especially important. Turn off the TV, computer, cell phone, or any digital device at least thirty minutes before bed. Our bodies are extremely sensitive to the blue light rays these electronics emanate, which can inhibit the production of melatonin (well-known for its role in sleep!).
Eat seasonally: We are deeply connected with the seasons. The function of our immune systems changes in tandem with the current season. Eating seasonal foods will help provide the body with information and support.
2. Support Your Immune System
As we have observed through the lens of TCM, a lack of energy is a common symptom that indicates a wei chi imbalance (the immune system is in over-drive). We all have experienced the feelings of fatigue that come along with acute illnesses such as the common cold. Even if you might not feel outright sick, the immune system is always on alert and working to protect the body from pathogens. As we age, our immune system's response becomes more vulnerable and finicky—which means, we may become more susceptible to illness and fatigue.
Our bodies are amazing and supporting your circadian rhythms is a great way to naturally support your immune system.
Additional ways to support immunity include:
Eat your fruits and vegetables. This can help ensure you are getting enough antioxidants and micro-nutrients, essential for optimal health.
Zinc deficiency is important to consider if you're feeling like your immune system is compromised. Research shows that zinc affects multiple aspects of the immune system. Zinc is necessary for the development and function of certain immune cells, including: macrophages, which are responsible for essentially "eating" foreign bodies (including pathogens) and clearing out dead cells.
Good sources of zinc include: pumpkin seeds, garlic, dark chocolate, chickpeas, and winter squash.
Medicinal mushrooms are wonderful allies when it comes to immune support.
Reishi (Lucidium ganoderma), known as Ling Zhi in Chinese, have long been associated with longevity in TCM. Considered an adaptogen, reishi have immune-modulating effects on the body—helping restore balance by dealing with the negative impacts of stress and supplying the body with powerful phytonutrients. Reishi can also be helpful for restoring energy levels. Research shows that reishi has strong anti-oxidant effects on the body—strengthening the immune defenses against cancer, autoimmune diseases, allergies, heart disease, and other infections.
Chaga (Inonotus obliquus) is another wonderful mushroom, known as an immune-enhancing super food. Its adaptogenic effects can boost or lower immune system activity, based on the body's needs. In TCM it is recognized as an important support to good gastrointestinal health.
3. Balance Your Blood Sugar
If you experience dips in your energy, it might be related to an imbalance in your blood sugar. When fatigued, it is natural to crave sugar and sweet treats. Dr. Aviva Romm explains why:
"When we eat mostly unhealthy foods (like sugar) or skip meals, our brain sends out an SOS [chronic survival mode] signal. It needs glucose to survive, so it tells the body that sugar is the only thing that will keep you alive. That's why, when the panic of low blood sugar hits, you urgently feel the need to have something sugary, fatty, or carbohydrate-rich. It's also why you feel better when you give in. Your survival hormones and neurotransmitters that were making you feel awful level back to where they belong. But that inner calm doesn't last for long, and the cycle reignites. Within the hour you're 'hungry' again, foggier that you were before, and probably angry with yourself for eating sugar. You're back in survival mode…"
Tips for balancing your blood sugar:
Ensure that each meal or snack includes health fats and proteins—this prevents blood sugar from spiking.
When you want to indulge, try making healthier choices for sweets. Dark chocolate is a good go-to. Once your blood sugar becomes balanced, your cravings for sugar will likely decrease and be different. You'll begin to notice the natural sweetness in foods such as nuts and rice.
4. Movement
Exercise is known for having all sorts of life-enhancing effects on the body—from decreasing risk of chronic disease (exercise bolsters immune health) to enhancing mood. Studies show that for the elderly, being physically active can help improve balance and help maintain muscle mass—both of which, has an impact on life-span.
No matter who you are, your human ancestors moved. From an evolutionary standpoint, we are also built to move. There are studies that show we think more clearly and creatively when we are moving. This is partly due to the fact, that exercise promotes blood flow, and carries g more oxygen to the brain.
If you are experiencing general fatigue, get up and start moving. Exercising may sound like the last thing you want to do; but research shows that regular, low-intensity exercise can help boost the energy levels in people who are experiencing fatigue.
Be gentle with yourself and start slow. Build up your activity and exercise level over time. At the University of Georgia, it was discovered that as little as twenty minutes of exercise, three days a week was helpful in increasing the energy levels in fatigued, but otherwise healthy adults. As you gain more energy you can increase your activity level and intensity.
Here are some ideas for low-intensity exercises:
Walking: Going for a morning walk is a great way to start off the day. Take a break during the work day and go for a short walk – it can actually help you increase your productivity level. Having an exercise buddy can help you stay motivated- plan to work out with a friend or call a friend while walking.
Take the stairs: Incorporate move movement into your daily routine by choosing to take the stairs, or a parking space that is further away from your destinations.
Join a gym: Having access to different equipment and exercising in a community can be more motivating for some people.
Bike: Biking is a great form of low impact exercise.
5. Drink Water!
Lack of energy is actually one of the first signs of dehydration. Because our bodies are mostly made of water, even little dips in hydration can negatively affect your metabolism and leave you feeling sluggish.
A good rule of thumb in holistic health is to drink half your weight in ounces of water per day.
Here are some tips to help you stay hydrated:
Carry around a water bottle to help encourage and remind you to drink water throughout the day.
Eat more fruits and vegetables— both are high in water along with micro-nutrients.
Naturally flavor your water with lemon, cucumbers, or mint to encourage yourself to drink more water.
Schedule water into your routine. Start your day with a cup of water or heat up some water and add some lemon for a nice morning ritual. If you are feeling restless while working, try taking a break and filling up your water bottle. Make sure to drink plenty of water after working-out.
Fatigue is a common symptom that has important indications as to one's health and well-being. Listen to your body, it can help you to identify any wei chi imbalances, which is important for your chi and in maintaining balance.
References:
Dr. Edward Group DC, NP, DACBN, DCBCN, DABFM. "Chaga Mushroom: The Immune-Boosting Superfood." Dr. Group's Healthy Living Articles, Global Healing Center, Inc, 24 June 2016, www.globalhealingcenter.com/natural-health/chaga-mushroom-the-immune-boosting-superfood/.
Guggenheim, Alena G., et al. "Immune Modulation from Five Major Mushrooms: Application to Integrative Oncology." Integrative Medicine: A Clinician's Journal, InnoVision Professional Media, Feb. 2014, www.ncbi.nlm.nih.gov/pmc/articles/PMC4684115/.
Håvelsrud, K, et al. "The Effect of Activity in the Elderly [Internet]." National Center for Biotechnology Information, U.S. National Library of Medicine, www.ncbi.nlm.nih.gov/pubmed/29320002.
Lenaert, Bert, et al. "Learning to feel tired: A learning trajectory towards chronic fatigue." Behaviour Research and Therapy, Pergamon, 22 Nov. 2017, www.sciencedirect.com/science/article/pii/S0005796717302346?via%3Dihub.
Parker-Pope, Tara. "The Cure for Exhaustion? More Exercise." The New York Times, The New York Times, 29 Feb. 2008, well.blogs.nytimes.com/2008/02/29/the-cure-for-exhaustion-more-exercise/.
Prasad, Ananda S. "Zinc in Human Health: Effect of Zinc on Immune Cells." Molecular Medicine, ScholarOne, 2008, www.ncbi.nlm.nih.gov/pmc/articles/PMC2277319/.
Publishing, Harvard Health. "How to boost your immune system." Harvard Health, www.health.harvard.edu/staying-healthy/how-to-boost-your-immune-system.
"Regular Exercise Plays A Consistent And Significant Role In Reducing Fatigue." ScienceDaily, ScienceDaily, www.sciencedaily.com/releases/2006/11/061101151005.htm.
Romm, Aviva. "7 Reasons Your Sugar Cravings Could Be in the Driver's Seat." Aviva Romm, 21 June 2017, avivaromm.com/control-sugar-cravings/.
Latest posts by Erin Henry
(see all)