Over the past couple of months I've been doing a few dietary experiments with fat fuel adaptation and ketosis. In this article I will lay out the basics, the results of my experiments, how you can do the same, and additional resources to check out for more information.
What is Ketosis?
The easiest way to think about ketosis is as an alternative metabolic method for your body to produce energy. In Nina Teicholz's The Big Fat Surprise, she gives the analogy that our body is like a hybrid car. Hybrid's can switch over from running on electricity to running on gas and vice versa.
And the human body can run off of glucose (sugar) or ketones (fat).
The thing is that when you eat sugar and carbs all the time, which is what pretty much every does, your body adapts to using those more and more. The hormone, insulin, is used to shuttle off the glucose into your cells. Unfortunately, too much insulin with too many carbs, especially of the refined type, can lead to metabolic syndrome and diabetes.
The body does have an alternative. The body stores fat to have a source of fuel, for when there isn't one. But if you're always eating carbs, your body rarely really taps into these stores. This can become so that your body becomes less and less able to even do so.
When you're a sugar burning machine you burn sugar and don't really know how to burn fat.
When you're a fat burning machine you can burn fat all day long.
And the truth is fat is a much better fuel source. Several organs, including the heart and brain, actually prefer ketones to glucose. Plus with nine calories per gram it has over twice the fuel (both carbs and protein have four calories per gram).
Nora Gedgaudas, the author of Primal Body, Primal Mind, gives another helpful analogy. When I heard this, it clicked into my mind and made perfect sense. You're building a fire and need to keep it blazing so you can keep warm. Do you just throw kindling on every few minutes? No. Instead you want a large log that will burn for hours.
The kindling is like carbs. They're great for a short burst of energy but they're not going to sustain you. That's why people that eat lots of carbs tend to need to eat every few hours. The blood sugar roller coaster begins. If you feel the effects of low blood sugar that means you're on that roller coaster.
A big log is like fat. It sustains you. And truthfully, once you're adapted to using fat as fuel you can and will often go half a day without even thinking about food. Without raising your blood sugar often you're not affected by it as much.
Ketosis is not the same as keto-acidosis, a life threatening problem that diabetics can face. Yet, since these two have similar names, many doctors and other people, think that ketosis is damaging for your health. The truth is that it has been shown to be promising in a number of diseases. For almost a hundred years its been used to help epileptic seizures. And it can also help dramatically with metabolic syndrome and diabetes.
Adapting to Ketosis
Your body cannot instantly switch over its metabolism. While there is just about always some degree of glucose and ketones being used it's the amount of each that really matters. Just in your fast overnight you wake up in a more ketotic state, but that doesn't necessarily mean you're "in ketosis".
A baby being fed breast milk, which is high in fat, will be in ketosis. But besides this most of the human population has likely never been in this state, unless you've fasted for over four or five days. Somewhere around this point, when you do switch into ketosis, the cravings for food go away making the fast easier to do.
And while if you don't use it you lose it, isn't exactly true here, it can take some difficulty adjusting to enter into a ketotic state.
When you cut out carbs, your body which has been burning sugar all along, doesn't know what to do. It keeps trying to burn sugar.
To get here you need to limit carbs. Typically its under 50 grams per day, but this is variable. Some people can do more. Others need to be even more strict, down to 30 or 20. Some people count fiber in this total, others do not.
You also can't eat too much protein. Protein can be turned into glucose in the body via a process called gluconeogenisis.
That means you're eating high fat, moderate protein, low to very low carb. The only carbs that you'll be eating come in the form of green leafy vegetables (not starchy ones).
After a few days, sometimes even a few weeks, your body gets the point. It begins to steadily use ketones for fuel instead.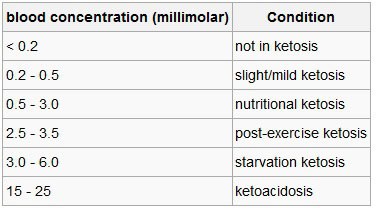 As you're adjusting, this can mean you'll feel low energy and lethargic, and your thinking may not be so clear. (One thing that can help with the adjustment is taking electrolytes, or even better broth or buillion, to support the switch over.)
But once your body has made the switch, you'll probably feel a lot more energy then before, as well as having greater mental clarity. As previously mentioned you won't be as hungry either.
Ketones can be measured via the blood, and new devices can do the breath. Urine testing appears to be unreliable, except when just entering ketosis.
I got myself a breath ketone meter, called Ketonix, just recently that I've only begun to experiment with.
Full on ketosis is when you're muscles stop using ketones and switch to free fatty acids. This can take several weeks to occur.
The Benefits of Ketosis
Because so much of the nutritional research of the past fifty years has focused on the false idea that fat was bad for you, so much so that it became a paradigm few people were looking outside of, there hasn't been too much research on this, until recently.
Despite that, the main thing you're going to have to do is experiment for yourself. This is the only way to know if a ketotic diet of one fashion or another works for you. As a major shift in metabolism, this is one thing that I would recommend most if not all people try doing. Take a month or two and see what happens.
As the body switches over into fat burning mode this is great for losing weight if you're overweight. You get to eat as much fat as you want, which is satiating, and tastes good.
If you're one of the people that can't go a few hours without food, I'd say this is even more important for you to do. That indicates some blood sugar issues. You may not have problems now, but there's a good chance you will in the future. This is true regardless of whether you eat simple or complex carbs.
If you do suffer from certain diseases like cancer or diabetes, this may be a great experiment to try too see if that manages your symptoms or even reverses the disease.
While most of your cells can use ketones for fuel, there is a type of cell that can't; cancerous cells. They only use glucose. Cutting off their fuel supply, is like cutting off the supply chain of your enemy in war. You just might starve them out.
Ketosis and Athletic Performance
When it comes to athletics things get a little blurry.
A few studies and quite a bit of anecdotal advice shows that once you're fully adapted to ketosis, this can be very good for long distance endurance athletes.
Not as much work has been done in other forms of athletics. What appears to be the general consensus is that you do need glucose for power. If you're doing anything like lifting weights, strongman, sprinting, or anything that isn't straight endurance, long term ketosis may NOT be the best option.
My experiences so far mirror this…
My Experiments in Ketosis
I went about a month with very low carbs. I didn't have my Ketonix breath meter at the time so I can't give you the numbers. However, based on the metallic taste in my breath that I woke up with, which is an indicator of acetone (a form of ketone) in your breath, I was definitely in it.
It didn't seem too hard for my body to enter ketosis, as I already preferred fat as my main source of fuel, and had done quite a bit of intermittent fasting over the years.
But before this I did eat carbs pretty much every day. So it did take a few days of adjusting.
As I got into ketosis, on some days early on I felt tired. This seemed to pass after the first week.
But with my workouts, things were hit or miss. Some days I felt great. Other days not so much. It was definitely all over the place.
I decided to switch to a cyclical approach. This involves a periodic carb re-feeding. John Kiefer, in The Carb-Nite Solution, recommends this as the best way to lose fat. You get all the great fat burning effects of ketosis. And you get the hormonal surge that occurs when you boost insulin by eating lots of carbs at night once a week approximately. This helps to reset your hormones that down regulate when you're in ketosis, helping to further gain fat loss.
Besides shedding a few extra pounds to make weight for my strongman competition, fat loss has not been my personal goal. I'm focused on performance. Thus this can be tweaked for more frequent carb loading.
I'm not done with my experiments. In the future I'll likely have a part two with more of my personal experience on what works best for me and what may work best for you. There will be continued experimenting in the future.
So What Do You Eat?
Lots of meat works for me. I'm a big fan of red meat, despite all the fear mongering around it. I buy an eighth of a cow, all grass-fed, to store in my freezer at a time.
And I like to vary this up with different kinds of fish, lamb, pork and fowl. I'm still working on including more organ meats into my diet. A new favorite is bacon and liver!
Eggs are a regular part of my diet. I eat them most days. I like these best poached in bone broth, but mix up how I cook them (or eat them raw).
Even though I am lactose-intolerant I don't have problems with butter, cream and hard cheeses. These go very well with vegetables. In fact the fat in them allow you to absorb the nutrients in vegetables better.
One of my favorite dishes is steamed broccoli (or kale, chard, or most greens) topped with butter. These days I'm doing lots more cooked vegetables than raw ones, but I still have a few salads a week, drowned in olive oil.
I start the day off with bulletproof coffee on most days. Sometimes, when I want to lay low on the caffeine, I skip that and make a chocolate drink instead.
Then there's coconut oil, coconut butter and coconut milk. Some form of coconut makes its way into my food daily. (The last one can be made into stevia sweetened coconut milk ice cream if you still want dessert.)
For snacks a handful or two of nuts and seeds.
And of course I've been taking my herbs the whole time. Even with the herbs that are high in polysaccharides there's not going to be enough carbs to throw off your numbers. Plus I think some of the adaptogens may better help your body to adapt to the metabolism switch over, or at least make the process easier on you.
Want to read more? I recommend all of the following books. These are the ones that educated me in the area as I began and have continued my experimentation.
Keto Clarity by Jimmy More with Eric C. Westman MD – A great starting place to get all the details you need about ketosis.
Primal Body, Primal Mind by Nore T. Gedgaudas, CNS, CNT – Not focused completely on ketosis, this book contains tons of other health issues around nutrition and more. Great starting place for the basics and advanced material
The Carb-Nite Solution by John Kiefer, BA, MS – A physicist's research backed diet plan the involves ketosis, with periodic carb refeeding. A great concept, with solid science behind it, that works.
The Art and Science of Low Carbohydrate Performance by Jeff S. Volek, PhD, RD and Stephen D. Phinney, MD, PhD – Covers the research in depth on low carbs and performance. Unfortunately (for me) most of the research so far is about endurance athletes.
The Coconut Ketogenic Diet by Dr. Bruce Fife – Another great started place for learning about ketosis and how it can help lots of people lose weight. As the name implies this one focuses on using coconut oil specifically as the main source of fat and how this will help you burn even more fat.
The Big Fat Surprise by Nina Teicholz – An exciting read that details how over the past 50+ years misled science, followed by politics and marketing, has pointed us all towards the idea that fat causes heart disease and obesity and how this led to trans fats, rancid vegetable oils and more, and how this idea is only now starting to be turned on its head. If you think fat is bad for you this is a must read!
Latest posts by Logan Christopher
(see all)