I read a little article in LifeExtension magazine about a year ago. It was on the fat-soluble, vitamin-like substance Coenzyme-10, something I had always been interested in because of its importance in the creation of ATP (adenosine triphosphate, 95% of our energy comes from this molecule) through the mitochondria. It also plays a significant role in protecting mitochondria from oxidative damage caused by the creation of ATP. Less damage measures out to greater efficiency of production of ATP.
Many believe that mitochondrial aging (as measured by oxidative damage and cell death) may be directly linked to biological aging as well, so anything that can help this process would have significant athletic impacts. As a runner, this has always been why I am so intrigued by our mitochondria. What I found interesting about the article were the studies they did on using shilajit in conjunction with CoQ-10.
My older brother had mentioned something about the two before this, but it didn't really stick in my mind until I read that article. Since then I have eyeballed the coenzyme section in stores on multiple occasions. Only since I started training for ultramarathons recently did I consider finally giving this experiment a little go.
Some studies conducted on shilajit showed that supplementing with it sharply reduced ATP loss. This is one of the things CoQ-10 is supposed to do by making ATP production more efficient. This implies a synergistic effect could happen when taken in combination. This is what they also found: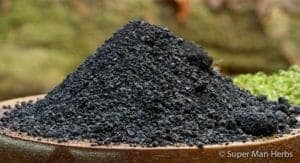 "Shilajit contains two primary components, fulvic acid and DBPs (dibenzo-a-pyrones). Fulvic acid independently stimulates mitochondrial energy metabolism, protects mitochondrial membranes from oxidative damage, and helps channel electron-rich DBPs into the mitochondria to support the electron transfer chain. Fulvic acid works as an electron "shuttle," augmenting CoQ10 to speed electron flow within mitochondria.
"The DBPs in shilajit serve as electron "reservoirs," replenishing electrons lost by CoQ10 when it donates them to free radicals (thereby neutralizing them).
"When laboratory mice are supplemented with oral CoQ10 alone, CoQ10 levels rise in heart, liver, and kidney tissue, as might be expected. When DBPs from shilajit are added to the supplement, CoQ10 levels rise still further—as much as 29% in the liver.
"A recent study suggests that DBPs from shilajit preserve CoQ10 in its superior ubiquinol form.
"Preliminary findings suggest that shilajit protects human tissue from lost energy in the form of ATP, while maximizing benefits from CoQ10, with dramatic improvement in exercise performance.76 In an as-yet-unpublished study, people who took shilajit 200 mg once daily for 15 days registered 14% higher post-exercise ATP levels in the blood—equivalent to levels in people who hadn't exercised at all. The average number of steps they took on a standardized dynamic exercise test rose significantly, and their mean fitness scores increased by 15%—without any intervening exercise training (1)."
As Lost Empire Herbs has gathered some very potent (in my opinion) forms of shilajit, the option to actually test this out was open before me. Now there are a lot of CoQ-10 supplements on the market and choosing one is mostly a matter of opinion and pay-grade in my mind so I decided to start out conservative with a moderately priced brand and go from there. I started taking 1 Tablespoon of our shilajit with triphala to help clean out my colon and only added the recommended dosage of one pill a day (100 mg).
Different brands have different stuff in them so comparing them based on dosage does not work. Testing a brand is the only way. I would take both the CoQ-10 and shilajit together, usually with food and usually in the morning to stoke the fire of metabolism.
Side-Effects?
Now I've been doing some research on the topic of supplementation with nonfood sourced CoQ-10 and read up on some apparent side effects people have seen. We must remember that CoQ-10 is an antioxidant and all antioxidants can become oxidants, thus their is an upper limit to dosing with them before they begin to have deleterious effects. This is why a whole food diet is much safer for getting natural levels of vitamins and minerals (CoQ-10 is considered a pseudovitamin by Examine.com), as there is little chance of getting into a possible toxic state with them.
So if you're interested in supplementing your diet naturally with CoQ-10, the best sources of it lie in organ meats, specifically, "the level of CoQ10 is the highest in organs with high rates of metabolism such as the heart, kidney, and liver (114, 66.5, and 54.9g/g tissue, respectively), where it functions as an energy transfer molecule.(2)" This is one reason these organs are so good for your health and why taking liver daily has been found to be so beneficial for overall endurance as Dr. Ershoff found in his study outlined below:
"Ershoff divided laboratory rats into three groups. The first ate a basic diet, fortified with 11 vitamins. The second ate the same diet, along with an additional supply of vitamin B complex. The third ate the original diet, but instead of vitamin B complex received 10 percent of rations as powdered liver.
"A 1975 article published in Prevention magazine described the experiment as follows: "After several weeks, the animals were placed one by one into a drum of cold water from which they could not climb out. They literally were forced to sink or swim. Rats in the first group swam for an average 13.3 minutes before giving up. The second group, which had the added fortifications of B vitamins, swam for an average of 13.4 minutes. Of the last group of rats, the ones receiving the liver, three swam for 63, 83 and 87 minutes. The other nine rats in this group were still swimming vigorously at the end of two hours when the test was terminated. Something in the liver had prevented them from becoming exhausted. To this day scientists have not been able to pin a label on this anti-fatigue factor (3)." I personally believe a large part of it may have to do with the high levels of CoQ-10 that liver contains after having experienced it myself.
So what are the side effects I researched to be the most common? The two major ones included gastrointestinal issues and, ironically since it is believed it helps with all cardiac issues, heart palpitations. All the side effects may be caused by pushing the bodies CoQ-10 levels to those which can harm us instead of help us. Ultimately though, you won't know how something works until you try it and hence the reason for self-experimentation in my case.
Effects
The effects weren't noticeable to me until around a week after consumption began. Now I do take other herbs so nothing is for sure but after taking herbs for so long and constantly feeling out the effects, I can usually and with great confidence distinguish different effects when I introduce a new supplement. So here is what I noticed over a three-week period before writing this article:
1) Of course, the first thing I noticed was better bowel movements caused by the triphala in the shilajit. This was to be expected and one reason I opted to use this shilajit over another one. I had been wanting to detox from some bad dietary choices I had been making and this combined with a largely raw food diet definitely detoxed my system rapidly.
2) Another effect I picked up on had to do with my prior knowledge of shilajit use. Shilajit really boosts my metabolism. I will often get surprisingly hungry when I'm regularly using it combined with intensive workouts. This makes sense because of its metabolism boosting effects. Also, if I don't eat anything during these hunger bouts, my blood sugar will drop hard. However, I noticed this time around I never got these effects. Not sure why this may have been.
3) Now the greatest effect I saw had to do with athletic performance and was the one I had been interested in since I read that article. Could there be a placebo factor? Yes, with anything, the mind has HUGE potential to create our reality so there always must be allowances for that. However, I have been on and off shilajit for many years now in modes of intense training and otherwise. I know what different shilajits do to me. So when I was able to run for nearly three full hours and still have amble amounts of energy afterward, I knew something was different this time around. Being able to do long intense workouts on back-to-back days without a lot of fatigue is something I have not experienced before, even with endurance enhancing herbs in the mix.
I even began to start working out multiple times a day simple because I could and with no large discernible decrease in energy levels afterwards. The energy involved was not the type that a caffeine high will give you either. This was consistent energy throughout the day. This is why I believe the shilajit/CoQ-10 supplementation did indeed increase my ability to create energy and is having a uplifting effect on my mitochondria.
4) No noticeable side effects have occurred. I believe the shilajit has a moderating effect on taking supplemental CoQ-10 and even increases the absorption of it because of the powerful chelating effects of fulvic acid. This may be why I never noticed any gastrointestinal problems. The low dosage may be another. More is not necessarily better with herbs or anything for that matter. I plan on sticking with 100 grams so as not to push it until I feel that I can or need to increase it, though that might not happen with this because of everything I have learned from writing this.
Afterthoughts
So these are just a few of the effects I noticed from taking coenzyme-10 combined with shilajit. I do believe that I achieved similar results to the studies that were done. Because they are so amazing I do not plan on stopping anytime soon, though I may have to experiment with taking raw liver again. I have switched from the Black Shilajit with Triphala to taking our Shilajit Pitch as I believe continuous hard detox is not necessarily a good thing for individuals. I do self-experimentation not just for the benefit of myself but to bring out the best in everyone. If you plan on trying this please be aware of and careful with how your body may react. Always remember, every individual reacts differently to things, so don't expect the exact same results. Otherwise, enjoy the self-discovery that is personal science.
Sources:
(1) www.lef.org/magazine/mag2010/feb2010_Reverse-Mitochondrial-Damage_02.htm
(2) www.ncbi.nlm.nih.gov/pmc/articles/PMC3178961/
Shilajit Studies:
A. Schepetkin IA, Xie G, Jutila MA, Quinn MT. Complement-fixing activity of fulvic acid from Shilajit and other natural sources. Phytother Res. 2009 Mar;23(3):373-84.
B. Goel RK, Banerjee RS, Acharya SB. Antiulcerogenic and antiinflammatory studies with shilajit. J Ethnopharmacol. 1990 Apr;29(1):95-103.
C. Agarwal SP, Khanna R, Karmarkar R, Anwer MK, Khar RK. Shilajit: a review. Phytother Res. 2007 May;21(5):401-5.
D. Bhattacharyya S, Pal D, Gupta AK, Ganguly P, Majumder UK, Ghosal S. Beneficial effect of processed shilajit on swimming exercise induced impaired energy status of mice. Pharmacologyonline. 2009;1:817-25.
E. Piotrowska D, Dlugosz A, Witkiewicz K, Pajak J. The research on antioxidative properties of TOLPA Peat Preparation and its fractions. Acta Pol Pharm. 2000 Nov;57 Suppl:127-9.
F. Ghosal S. Shilajit in Perspective. Oxford, U.K.: Narosa Publishing House; 2006.
I. Visser SA. Effect of humic substances on mitochondrial respiration and oxidative phosphorylation. Sci Total Environ. 1987 Apr;62:347-54.
J. Royer RA, Burgos WD, Fisher AS, Unz RF, Dempsey BA. Enhancement of biological reduction of hematite by electron shuttling and Fe(II) complexation. Environ Sci Technol. 2002 May 1;36(9):1939-46.
K. Kang SH, Choi W. Oxidative degradation of organic compounds using zero-valent iron in the presence of natural organic matter serving as an electron shuttle. Environ Sci Technol. 2009 Feb 1;43(3):878-83.
L. Islam A, Ghosh R, Banerjee D, Nath P, Mazumder U, Ghosal S. Biotransformation of 3-hydroxydibenzo—pyrone into 3,8 dihydroxydibenzo—pyrone and aminoacyl conjugates by Aspergillus niger isolated from native"shilajit." Electronic Journal of Biotechnology. 2008 Jul 15;11(3):2-10.
M. Bhattacharyya S, Pal D, Banerjee D, et al. Shilajit dibenzo—pyrones: Mitochondria targeted antioxidants. Pharmacologyonline. 2009; 2:690-8.
Latest posts by Zane Christopher
(see all)