Both men and women need estrogen and testosterone. While the ratios are different between the genders, both of these are absolutely critical for overall health and wellness. In this article, we'll be diving deep into the important role of estrogen for men.
When men begin testosterone replacement therapy, an aromatase-inhibiting drug is also often prescribed. Aromatase is the enzyme that converts testosterone into estrogen. Now, this may be helpful in some cases, but that doesn't mean all.
This certainly does not mean that all guys need to seek to lower their estrogen count. This is a common misconception.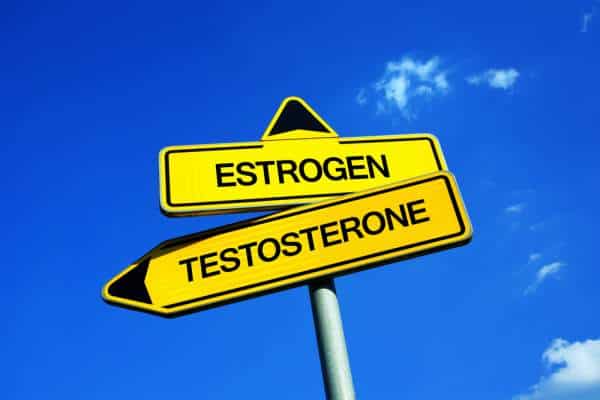 Estrogen Basics
First up some basics about estrogen. There are different types of estrogen. The main one is called estradiol (E2). Less common forms include estrone (E1) and estriol (E3). And all of these have different metabolite versions. For the most part, this article only focuses on estradiol. Why? Because its the only estrogen we really have any information on for men.
Estrogens are produced in the testis, bones, blood vessels, brain, and fat.
Also of importance are the receptor sites, which in my opinion don't get enough attention in hormone health. https://lostempireherbs.com/mens-hormone-health/ Why? We can't measure them like we can the hormones themselves, but they matter for hormone health and can also be too high or too low. With estrogens, these include, ESR1, ESR2, G protein-coupled estrogen receptor (GPER), and estrogen-related receptors (ERR).[1]
The Benefits of Estradiol in Men
Erectile function  Read more here…
Libido (aka desire for sex)
Bone health
Regulation of fat and muscle mass
Lipid metabolism
Brain function Read more here…
Skin metabolism
Sperm health
So even though estrogen is thought of as a female hormone, simply because they have more of it, we see that it is critical for male sexual function. In other words, you need estradiol to be able to perform.
Here is what one study had to say:
"Estradiol in men is essential for modulating libido, erectile function, and spermatogenesis. Estrogen receptors, as well as aromatase, the enzyme that converts testosterone to estrogen, are abundant in brain, penis, and testis, organs important for sexual function. In the brain, estradiol synthesis is increased in areas related to sexual arousal. In addition, in the penis, estrogen receptors are found throughout the corpus cavernosum with a high concentration around neurovascular bundles. Low testosterone and elevated estrogen increase the incidence of erectile dysfunction independently of one another." [2]
Symptoms of Low Estradiol in Men
Fatigue
Anxiety
Fat Gain
Bone loss
Water retention
Sexual dysfunction
Memory issues
Irritability
Depression
Impaired glucose tolerance  Read more here…
Low growth hormone
Joint pain
Sound familiar? This list is quite similar to the list for low testosterone. https://lostempireherbs.com/testosterone-men-the-correlation-between-healthy-testosterone-levels-and-overall-well-being/ If you have low testosterone, you might also have low estrogen. Why? Because testosterone is the starting material which gets converted into estrogen.
Once again, there are cases where some men over-aromatize the testosterone to estrogen. In these cases, they have low testosterone and normal or high estrogen. We'll get to that shortly.
But many men that have low T may also be suffering from low estrogen. This speaks to the importance of looking at more than a single hormone in lab testing.
In fact, some of the things we attribute to low T could be from estrogen instead. For example, "Recent data from clinical intervention studies indicate that estradiol may be a stronger determinant of adiposity than testosterone in men, and even short-term estradiol deprivation contributes to fat mass accrual." [3]
In other words, too little estrogen may be a bigger culprit in fat gain than low testosterone.
Symptoms of High Estradiol in Men
Erectile dysfunction
Loss of libido
Infertility
Gynecomastia (aka man boobs)
Night sweats (hot flashes)
High blood pressure
Insomnia  Read more here…
Water retention
Mood swings
Anxiety
Depression
Fatigue
Prostate issues (BPH and Cancer) Read more here…
Increased Fat Gain
Testicular Shrinkage
In some ways, this list reads a lot like the list for menopause symptoms in women. And it should. In women, progesterone is often looked at in ratio to estrogen (though testosterone absolutely should be as well). With men the ratio of testosterone to estrogen is crucial.
Andropause (or male menopause or manopause) often occurs when testosterone drops at an older age. It is not clear if this is from low T with high estrogen, low T and low estrogen, or really a broad category that covers both. We see that some of the most common symptoms of sexual dysfunction, loss of libido, depression, and fatigue can be symptoms of both low or high estrogen.
One thing this study shows is that low testosterone and low estradiol are associated with almost double the deaths from all causes. [4]
Normal and Ideal Levels of Estradiol in Men
Before I get into this it is important to realize that reference ranges are determined by looking at samplings of people. As estrogen has not been seen as important for men until recently, so there is limited research available.
What this means is that what is "normal" for "healthy" men these days, does not necessarily mean "ideal". In other words, you can take a reference range with a grain of salt. But at least it gives us a starting point.
My recent blood test listed the following reference ranges:
Estradiol
7.6-42.6 pg/mL
Total Estrogens
40-115 pg/mL
Also, note that like with testosterone there is a difference between the total and free levels. Sex hormone-binding globulin will also bind to estrogens, though less so than the androgens.
The Other Problem with Testing…
Estradiol is mostly locally made and used. It doesn't just travel around your blood looking to go where needed.
For instance, if there isn't enough estrogen in your brain, you're not going to have the neuroprotective effects that help with mood, memory and more. Meanwhile, you could have normal amounts in your blood according to a test.
Therefore, serum levels can miss some critical information. Sorry, but this does further complicate matters.
What to Do with This Info?
Like everything, estrogens and estradiol have to do with having the right amount. Too little is not good. Too much is not good. It really looks like we need to Goldilocks this one.
First of all, be aware of this information. All too often in health, we get stuck in thinking that something is bad so it should be avoided, like estrogen for men. Later on, we recognize that was faulty thinking. This is obvious now with estrogen. (and be aware of this kind of thinking with other hormones and blood markers. SHBG you're next…)
I recognize this article probably raises more questions than it answers, but here are some possible actionable steps for you.
Blood Tests
If you're getting a blood test to check for low testosterone it is also a good idea to check your estradiol level. I know I just said it's not perfect for a number of reasons, but it is still better than nothing.
Total estrogens, which is going to also include estriol and estrone, is not important because there is even less data about what to do with that.
Lose the Fat
Adipose tissue creates the aromatase enzyme. Though fat is commonly thought of as inert material, it is actually quite active, especially hormonally. Thus overweight individuals are more likely to have low testosterone and high estrogen. (Not to mention many other hormones and an increase in systemic inflammation.) [5]
Obviously, there is a bit of a vicious cycle here in that having imbalanced hormones makes it harder to lose fat. The fat itself reinforces the imbalance. That's unfortunate, but it appears to be the way things are.
The good news is that on the flip side, it becomes a bit of a virtuous cycle when you keep a leaner body mass.
Avoid Endocrine Disrupting Chemicals
EDC's are often called xeno-estrogens. But the fact is that only some of these act as estrogens, while others may have anti-androgenic or other actions. In short, they disrupt your hormones in a wide variety of ways.
This article all about endocrine-disrupting chemicals gives you all the info you need to start reducing your exposure.
We also see that EDC's can lead to vicious cycles that are best avoided as much as possible.

Eat or Avoid Phytoestrogens
If you have high estrogen levels, then you may want to avoid most foods with phytoestrogens.
The most common of these include soy, flax, and hops (as found in beer). Plus, a lot of other foods than most do not realize, such as wheat, oats, barley, beans, lentils, yams, rice, apples, carrots, pomegranates, coffee, mint and more.
Just because you have high estrogen, doesn't mean you should automatically eliminate all phytoestrogens. Some might be able to help. If you can't tell, this is a complicated area. If you're low in estrogen consuming more of these may help.
To reiterate everyone should avoid man-made EDC's as much as possible. (The human species has never seen these until recent years and they're bad news.) But only some people should strive to avoid or minimize phytoestrogens. (we've been using these since the beginning of time.)

Use Herbs Smartly
Some herbs may affect hormone levels in different ways.
1. Pine Pollen provides trace amounts of phyto-androgens.
2. Tongkat Ali and Nettle Root are said to affect (limit) the aromatase enzyme.
3. Shatavari and Horny Goat Weed supply phytoestrogens.
4. He Shou Wu and Schisandra affect liver metabolism, which includes hormone metabolism.
There is limited science available on most of these. However, there is one way to find out what they can do for you and that is to simply try them and see.

General Health Foundations
This includes all the basics of:
Eating high quality, nutrient-dense food
Getting high quality and quantity of sleep
Hydration
Managing insulin and blood sugar levels
Manage inflammation levels
Ensuring a healthy gut microbiome
Spending time in nature (breathing fresh air, getting grounded, sunlight, etc.)
Exercising
Reduce chronic stress levels
Detox from man-made chemicals, heavy metals, mycotoxins, etc.
Hormones are complicated. But if you follow the basics, you're going to do a whole lot more for your endocrine system and overall health.

References:
1. Cooke PS, Nanjappa MK, Ko C, Prins GS, Hess RA. Estrogens in Male Physiology. Physiol Rev. 2017;97(3):995–1043. doi:10.1152/physrev.00018.2016 https://www.ncbi.nlm.nih.gov/pmc/articles/PMC6151497/
2. Schulster M, Bernie AM, Ramasamy R. The role of estradiol in male reproductive function. Asian J Androl. 2016;18(3):435–440. doi:10.4103/1008-682X.173932 https://www.ncbi.nlm.nih.gov/pmc/articles/PMC4854098/
3. Rubinow KB. Estrogens and Body Weight Regulation in Men. Adv Exp Med Biol. 2017;1043:285–313. doi:10.1007/978-3-319-70178-3_14
https://www.ncbi.nlm.nih.gov/pmc/articles/PMC5835337/
4. Tivesten A., Vandenput L., et al. Low serum testosterone and estradiol predict mortality in elderly men. J Clin Endocrinol Metab. 2009 Jul;94(7):2482-8. doi: 10.1210/jc.2008-2650. https://www.ncbi.nlm.nih.gov/pubmed/19401373
5. Lee HK, Lee JK, Cho B. The role of androgen in the adipose tissue of males. World J Men's Health. 2013;31(2):136–140. doi:10.5534/wjmh.2013.31.2.136
https://www.ncbi.nlm.nih.gov/pmc/articles/PMC3770848/
6. Mauvais-Jarvis F, Clegg DJ, Hevener AL. The role of estrogens in control of energy balance and glucose homeostasis. Endocr Rev. 2013;34(3):309–338. doi:10.1210/er.2012-1055 https://www.ncbi.nlm.nih.gov/pmc/articles/PMC3660717/
Latest posts by Logan Christopher
(see all)