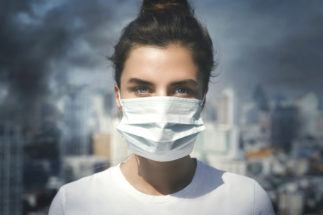 Since around the 1930's we've been sold a bill of goods known as "better living through chemistry."
Sure, our lives are more convenient than ever. But we have taken the short term gains for long term detriment because of our massive use of this chemistry.
You see, many of those chemicals used to "enhance life" turned out to be endocrine disrupting chemicals. Every year we're seeing more of their long term effects in the prevalence of chronic health issues.
The bad news is that it is going to get even worse before it gets better (and it's only a possibility that it will get any better. Personally I flip-flop back and forth between optimism and pessimism when I look at areas such as these).
This video, Our Chemical Lives, gives a good overview of everything covered in this article…
I feel that a basic understanding of what endocrine disruptors are, where they're commonly found, and what they do to you is mission critical for your health these days.
What are Endocrine Disruptors?
The Endocrine Society defines endocrine disrupting chemicals (EDCs) as "an exogenous [non-natural] chemical, or a mixture of chemicals, that interferes with any aspect of hormone action." 1
Furthermore, "When humans are tested for the presence of EDCs in their blood, fat, urine, and other tissues, the results consistently demonstrate a variety of EDCs in all individuals worldwide."
Because endocrine disrupting chemicals are so prevalent, and shortly you'll see how many there are in so many common places, you can't get away from them. It's been shown that significant amounts of many of these chemicals are found in the uterus and umbilical cord of developing babies.2
Many people have heard the term xeno-estrogen. Xeno meaning foreign or alien, and estrogen referring to the estrogen group of hormones which includes estrone, estradiol, and estriol. A common mistake is to assume that all EDCs are estrogenic but this is far from the truth.
EDCs work to disrupt hormones by many different mechanisms including:
Mimicking endocrine actions
Blocking endocrine actions
Interfering with receptor binding
Disrupting conversion of hormones
Altering the metabolism of hormones
As an example, phthalates which are used to make plastics flexible and are found in foods, water and more, do not exert an estrogenic action. Instead, they are directly anti-androgenic.3 So are DDT, DDE, and vinclozolin.4
Furthermore, some EDCs are sometimes called "obesogens" because of their effects in disrupting hormones related to metabolism, energy, appetite and thus effecting weight gain and obesity.
As defined, EDCs impact hormonal actions. In that way, they're effective at very minute amounts, even parts per billion. The thing is that there appears to be windows of time in which these effects can occur, and at other times they may not be so detrimental.
Most EDCs are not acutely toxic like many other poisons, but that doesn't mean they don't have toxicity.
Xeno-estrogens vs Phyto-estrogens
Another important point is that xeno-estrogens are not to be confused with phytoestrogens, that is estrogenic chemicals that come from plants.
Some of the most well known of these are soy, flax, and hops. However, these are present in far more foods than you might think including:
Wheat
Oats
Barley
Beans
Lentils
Yams
Rice
Apples
Carrots
Pomegranates
Coffee
Mint
I first wrote about this in an article, years back titled "Is Mother Nature More Feminine?".
In looking at this issue I don't think phytoestrogens are the real problem. Yeah if you're a guy I wouldn't be guzzling soy milk on a daily basis. In fact, I think soy is best avoided for the most part, and for women too, but this has to do with some other issues like most of it being GMO, heavily, heavily processed and more. (I personally only eat fermented soy such as miso. The fermentation process changes this bean significantly.)
For some people, you may need to be careful of certain estrogenic foods and herbs, but I do not think most people fall into this camp.
Also read: Acetaminophen's Endocrine-Disrupting Effects
Far more important than avoiding phytoestrogens is all the man-made EDCs that the human body has never dealt with in the span of our species until the last century. In other words, striving to avoid beer may not be an issue if you're slathering your body with personal care products that contain far more and far worse EDCs.
Endocrine Disruption Symptoms
As hormones affect every system and cell in the body, these have far-reaching effects.
Here is a list of hormone-producing glands in the human body: brain, pineal, hypothalamus, pituitary, thyroid, parathyroid, heart, mammary glands, adrenals, pancreas, uterus, ovaries, prostate, and testes.
Endocrine disruption symptoms include infertility, subfertility, sexual dysfunction including erectile dysfunction in men, menstrual disruption in women, early onset menopause, PCOS, disrupted hormone production, and more.
These same EDCs are also the cause alterations of genetic systems, directly in the genes as well as through epigenetics. The disastrous piece of this is that many of the effects are transgenerational.
This means the EDCs effects on you today can cause worse effects for you not only years later but in your children and grandchildren. (It is this point that makes this a very scary topic in that the future may already be screwed even if we stopped everything now…not that that is going to happen.)
In a brand new study on the dangers of glyphosate, this has now been called "generational toxicity," a good term for a potentially devastating thing.5
Here's one such effect. Over the past 50 years, global average sperm count has dropped by half at a pace of about 1% per year. EDCs are the leading culprit.6
Although there is a focus on the EDCs effects on the sex hormones (testosterone, estrogen, etc.) many of them affect other hormonal systems such as thyroid and cortisol hormones too. EDCs such as dioxins, PCBs, PBBs, and many pesticides contain halogens like chlorine and bromine which are substituted in the body for iodine and thus cause thyroid issues.4
One of the biggest effects that EDCs bring is the increase of cancer, most notably breast and prostate cancer, but many others, too. Other diseases implicated include obesity, diabetes, thyroid diseases, neurological issues and more.
The Research on Endocrine Disrupting Chemicals is In
Understand this.
There is a pattern among industries that has been followed ever since Big Tobacco. Funding studies and scientists to confuse the matter while stating all the science is not settled. Falsify data, use statistical manipulation, and other methods to confirm the hypothesis you want. Call anything that says differently "junk science." Get lobbyists and PR people involved to further muddy the waters and delay the inevitable.
Meanwhile, rake in millions and billions of dollars until regulations or bans are finally put forth.
A good overview of this can be found in the books Toxic Sludge is Good for You! and Trust Us, We're Experts! by Sheldon Rampton and John Stauber.
Science likes to reduce things down to one variable, and typically only looks for short term effects. That is a big problem when we're all swimming in a soup or a combination of these chemicals and even worse when those chemicals can have a lag time between exposure and effects, even generational toxicity. What human study is going to show that EDC exposure to your grandfather is giving you E.D. now? There is none and there won't be until it is too late.
But if you look there is plenty of science indicating harm, on some of these chemicals more so than others. Even if only half of the science is saying so (the non-bought half), isn't that sufficient evidence of harm?
This picture from a study titled "Exposure to endocrine disruptors during adulthood: consequences for female fertility" shows just a few of the effects of the many EDCs, which will be further explained below, in rats.7
And women.
For the guys, just check out what EDCs are doing to sperm morphology, that is size and shape, not to mention volume already mentioned.8 If this trend continues, and there is a good reason to think it will, humans will largely be infertile soon.
Sure, we can keep on debating the science, but if you look there is plenty from which to know that these absolutely, positively are having negative effects. This is obvious as many have already been banned in one or more places because of what they do.
Biohacker Beware: Why Tests Don't Typically Cover These…
You can get tests for heavy metals. That one is pretty easy. You can see an example of my recent heavy metal test here.
But what about anything else covered here?
To the best of my knowledge tests are not commonly done to find just how many EDCs are swimming around your blood or stored in your fat cells, your testis, breasts or brain.
You can look at your hormones but that won't tell you if your blood is boiling with BPA or that your testosterone is in the pits because of phthalates. You may only see the effects of these chemicals, not them directly.
And that further makes diagnosis tricky. What if you autoimmunity is not necessarily caused by (cause and effect is hard to prove and generally not a one-cause, one-effect type of thing within complex systems like the human body) but definitely exacerbated by a combination of these chemicals that you're being exposed to on a regular basis but just don't know about? That is happening far more often than most people realize.
Tests are available but they're far from common practice.
Different Types of Endocrine Disrupting Chemicals
What follows is a fairly comprehensive list of different types of endocrine disruptors as well as specific ones. While comprehensive this doesn't mean it includes everything.
And although I've done my best to categorize them, so that you know what to beware of where some of the chemicals are used across a wide use of industrial functions.
Agricultural Products (Pesticides, Herbicides, Fungicides, Larvacides, etc.)
DDT (Dichlorodiphenyltrichloroethane)
This pesticide was widely used beginning in 1936 before being banned in the US in 1972. It is stilled used in some other countries. Just for fun here we humans were spraying children with DDT because it was believed to be so safe.
This is important as this is how science works. We think certain things have no problem for some time. Eventually, we find out they do and sometimes (only sometimes) do they eventually get banned. How many of the chemicals on this list have not got to the same stage as DDT?
DDE (p,p'-Dichlorodiphenyltrichloroethylene) and DDD (dichlorodiphenyldichloroethane) are other chemicals that are breakdown products of DDT. These all still exist in the environment, because like many of the EDCs they're persistent. They hang around for a long time. From that widespread usage, DDT has even been found in remote glaciers in the Himalayas.9
Atrazine
Atrazine has been shown to turn male frogs into females.10 While it may not be powerful enough to cause sex change in humans, that doesn't mean it's not having an effect on various hormones. Atrazine was the second most popular pesticide used in the USA. The EU banned it in 2006. The USA continued to use it. Nowadays it is almost fully banned but still in limited use.
In this video, Tyrone Hayes, who did research on Atrazine shares how it increases the aromatase enzyme which converts testosterone into estrogen.
There are plenty more of these agricultural poisons that are used and are EDCs, including but not limited to:
Indane
MXC (Methoxyclor)
VCZ (Vinclozolin)
Dieldrin
Cypermethrin
(TBT) Tributyltin
Chlropyrifos (a major organophosphorus pesticide)
Glyphosate
1,3-D
Paraquat
Neonicotinoids
Dioxin
Dioxins are formed from industrial processes when chlorine or bromine are burned which occurs in waste incineration and burning fuels. They're also formed from the production of some herbicides.
Dioxins are powerful carcinogens and EDCs widely found in the food supply, especially animal products, concentrated in fat.8
Plastics and Plasticizers
Bisphenols
BPA (Bisphenol A)
BPS
BPF
BPB
BPAF
Many more…
BPA and its cousins are xeno-estrogenic chemicals that are found commonly in plastics and epoxy resins which make their way into the linings of cans and even paper receipts.7 Because BPA has taken the limelight as a dangerous chemical recently, it has been replaced by other lesser known bisphenols that have similar effects.
I share this quote once again because it is spine-chillingly important:
"A poison kills you. A chemical like BPA reprograms your cells and ends up causing a disease in your grandchild that kills him."
– Frederick vom Saal, Biology Professor at the University of Missouri-Columbia and BPA researcher
BPA and other dangers of plastics have been covered in more detail in these previous articles.
Phthalates
DEHP (diethylhexyl phthalate)
DEP (diethyl phthalate)
DBP (dibutyl phthalate)
MBP (mono-butyl phthalate)
MEHP (mono-(2-ethylexyl) phthalate)
MEHHP
MEOHP
Phthalates are used as plasticizers to make plastics more flexible, durable, transparent, and soft. They're used in numerous consumer, industrial and medical products which includes but is not limited to: plastics, solvents, sealants, paints, varnishes, detergents, cosmetics, personal care products, air fresheners, flooring, toys, and various household products.
Beyond the anti-androgenic action of phthalates mentioned earlier, one of them, DBP, has been implicated in disrupting insulin and glucagon signaling.11
Found In Many Household Goods
PCB (Polychlorinated biphenyls)
PCBs are a group of 209 different aromatic chlorinated hydrocarbons were used in industrial coolants and lubricants, found in fluorescent lights, consumer electronics and more. Banned in 1977 they're still found throughout the world circulating in our food supply.12
PBDEs (Polybrominated diphenyl ethers)
PBDEs are a group of flame retardants that are used in a wide range of household goods include TV's, computers, carpets, clothing, lighting, vehicles, furniture and mattresses. Yes, you are likely sleeping for hours on material that releases these into the air. Structurally they're very similar to PCBs. They've been shown to disrupt thyroid hormones.13
These might be one of the most common EDCs found in your home. Could this be why there is an epidemic of thyroid disorders?
Alkylphenols
NPE (nonylphenol ethoxylate)
OPE (octylphenol ethoxylate)
Alkylphenols, another group of xenoestrogens, are found in detergents, disinfectants, surface cleaners, cosmetics and in some pesticides and herbicides.14
PFCs (Perfluorinated chemicals)
PFOA (perfluorooctanoic acid)
PFOS (perfluorooctanesulfonic acid)
These surfactants are used in carpeting, upholstery, apparel, floor wax, textiles, sealants, and cookware. PFOA has been banned but it is "completely resistant to biodegradation" meaning it will never breakdown. They've been found to disrupt the thyroid and act as an obesogen.8
NP (nonylphenol)
Nonylphenols are commonly used in laundry detergent, dishwashing detergent, as well as pesticides and lubricating oils and have EDC effects.7
Drugs and Antibiotics
Acetaminophen
Despite being an over-the-counter drug that is thought to be quite safe, acetaminophen is responsible for an estimated 56,000 ER visits and 458 deaths per year due to acute liver toxicity. That's it's main fairly well-known side effect. And it also disrupts the hormones too.15 You can find out more in this previous article.
Other pain meds such as aspirin and ibuprofen also appear to have some EDC effects.
Hormonal Contraceptives
"The Pill" works by disrupting hormones to make pregnancy impossible. As such it qualifies as one of the strongest EDCs out there. And this comes with some big side effects such as increased cancer risk.16 Besides being a known carcinogen there are all kinds of other possible problems.
DES (diethylstilbestrol)
DES was approved for use in menopausal women back in 1941 and to help prevent miscarriage in 1947. In 1971 they discovered that it was linked to vaginal cancer in female babies.7
Triclosan
Triclosan was long been used as an antibacterial agent. This included its use in soap, cosmetics, even toothpaste. This is despite the fact that regular soap kills just as much bacteria as antibacterial soap, without leading to antibacterial resistance, which is why it is now banned its soaps. Besides this triclosan has been shown to affect thyroid hormone (specifically T4) at least in rats.17
Personal Care Products
Parabens
Parabens are very common in personal care products such as soaps, shampoos, lotions and more. Estimated daily exposure if 5-50 mcg/kg per day in adults and 15-230 mcg/kg per day in infants and toddlers!18
Oxybenzone
Oxybenzone is found in most sunscreens. It has been implicated in destroying coral reefs and thus been banned in Hawaii and parts of Florida. Bad for the environment, bad for us with weak estrogenic and anti-androgenic effects.19
Note that this is just one chemical in sunscreens while there are many others that are potentially as bad or worse. I would advise using chemical-free sunscreens or even skipping the sunscreen and just getting moderate amounts of sun instead. (The sun is amazingly healthy for you in the right dose and does a lot more than just produce the cancer-fighting vitamin D.)
A new study that looked at four chemicals in sunscreen, avobenzone, oxybenzone, octocrylene, and ecamsule,  just came out stated, "In this preliminary study involving healthy volunteers, application of 4 commercially available sunscreens under maximal use conditions resulted in plasma concentrations that exceeded the threshold established by the FDA for potentially waiving some nonclinical toxicology studies for sunscreens."20
Heavy Metals
These are four of the major heavy metals that can contaminant food, water, herbs, and supplements. (We do independent lab testing of heavy metals for all our herbs and they must pass our strict standards. Find out more on our Heavy Metals page.)
Arsenic
Cadmium
Lead
Mercury
Many people are aware that heavy metals can cause multiple issues, but many people are not aware that some of those issues are because of their effects on the hormonal system.
For example, in women, heavy metals are associated with lowered LH (luteinizing hormone) levels, uterine fibroids, decreased ovarian health, and infertility.7
Lead disrupts the HPA axis. Arsenic screws with the glucocorticoid system. Mercury damages cells in the pancreas that produce insulin (in addition to much else).7
Us and the Environment
Unfortunately, many of these chemicals also do not breakdown in the environment. They move through plants and animals, exerting their actions, and disrupt ecology. It's not just about us humans, but all other living beings which can be affected. This is why, despite being banned for decades, DDT and DES are still around, still causing harm.
It doesn't help that we pump thousands, even millions of tons of these chemicals out. There is a mind-boggling amount of these chemicals around.
Looking at this list you'll find many things that are banned or are close to it. And in many of these, you can find lots of science.
The problem is the things that we DO NOT KNOW. What are the chemicals that are being used today that in twenty years we realize are absolutely horrible and should never have been used? If nothing changes we'll simply be cycling through this same pattern over and over again, that is until it is too late.
These chemicals make there way everywhere. What is one of the biggest exposures we call have? Indoor air and dust.14 Chances are you are breathing some small amount of these EDCs right now.
While you cannot eliminate EDCs you can go pretty far in cutting down on your exposure.
Drink clean water
Eat organic
Eat lower on the food chain (less bioaccumulation)
Eat less prepackaged food
Don't put anything on your skin that you wouldn't eat
Don't put anything in your mouth that you wouldn't eat
Wear organic and natural clothing
Get organic and natural bedding and furniture
Minimize the use of all plastics
Be careful about the use of pharmaceutical drugs
Be careful where you breathe
In the end, minimize the use of just about anything man-made or far removed from its natural form. Ridiculously tough to do, but the more you can do so, the likely better you'll be, once again not just for avoiding the listed chemicals, but the many we're not even aware of. Aim for living more in alignment with nature as I cover in my new book, Powered By Nature.
Secondly, you can go pretty far in helping to support your body so that it can handle and detox these chemicals. Fasting, sweating, movement, breathwork, nutrients and, of course, herbs.
It is my opinion that nature is here to help us – if we're open to looking.
Herbs Are a Powerful Ally
…like Pine Pollen. Yes, it has direct androgenic action which can help balance out the estrogenic action of many of these chemicals. But it may be even more powerful at helping the body process and detox these chemicals. It's something of just a theory but based on the SOD, polyphenols, proanthocyanidins and many other compounds it contains too, and the great results customers are having, it appears to be helping in these other areas through detox support.
Another great herb is Shilajit, both in the Powder and Resin forms. The fulvic acid and much else is good at pulling heavy metals out of the body. Chances are it helps pull other things out too.
Schisandra berry helps support phase 1 and phase 2 liver detox, essentially preparing chemicals for elimination then eliminating them.
And there's a lot more where that came from. Herbs won't make up for exposure, but they can certainly help support your body in doing the right things to handle it, especially when combined with the steps to limit exposure outlined above.
Please share this article that you're reading with friends, colleagues and on social media or by linking from your own website.
Every human needs to have a basic understanding of Endocrine Disrupting Chemicals, especially since its not just your health but your children's and grandchildren's at state.
[pt_view id="9a2f6e548j"]
As always, your comments and questions below are appreciated.
References:
If you want to go deeper many of these listed below are the full papers with lots more details on the specifics. This article was meant to be an overview of the subject, not to give the nitty-gritty detail on how specific EDCs work. But you can find that below.
Latest posts by Logan Christopher
(see all)