Dong quai has a strong reputation for being a female herb. But just like tongkat ali is known as a male herb, women can significantly benefit from it too. So it is that dong quai is for men too.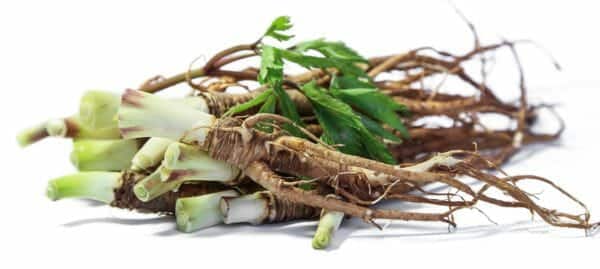 I'm just beginning to use this one personally and regularly.
It was in reviewing some of the research about Dong Quai benefits that I came across the following three things that will be of interest to many guys.
#1 – Dong Quai for Athletes
Dong quai is one of the best blood building herbs in Chinese medicine. In Chinese medicine, blood is thought of as a condensed, more physical form, of qi.
It is responsible for delivering oxygen and nutrition all throughout the body.
And that is why the benefits of Dong Quai can be perfect for athletes and anyone that does workouts.
No human studies have been done for this effect yet. But one with rats found increased forelimb grip strength and help with exercise-induced anemia by increasing red blood cell counts and hemoglobin.1
It even contributed to preserving muscle glycogen.
That's why I've just started taking it. Later on, I'll report back with my results.
#2 – Dong Quai for Male Fertility
One of the compounds that dong quai is rich in is ferulic acid. While this phytonutrient is found in many foods, it is not bioavailable most of the time.
Besides being a strong antioxidant, it's been studied for its use in sperm quality. Specifically, in sperm samples from both infertile and fertile men, ferulic acid was shown to increase sperm viability and motility.2
Thus, the fertility assisting benefits of dong quai are not just for women, but for men too. Of course, ferulic acid is probably just one of the components that are contributing to this.
So, men may want to try out this herb too. Before we go, I want to address the one reason that may stop many men from taking it. And that is the…
#3 – Dong Quai Phytoestrogens
Still up for debate is whether anything in dong quai acts as an estrogen or not. The science is not clear, some showing estrogenic action, while other studies do not. 3-5
Even if it does, after being in this field for a while I'm not all that concerned with PHYTO-estrogens, or those estrogenic chemicals that come from plant foods.
Yes, I think unfermented soy should be avoided, but this has to do more with some other issues than just the phytoestrogens.
Yes, phytoestrogens can probably be over-done, just like anything else.
But the fact is that they're quite prevalent. Some foods that contain them include wheat, oats, barley, beans, lentils, yams, apples, carrots, rice, coffee, hops, and the list goes on and on.
Even the most famous and renown male tonic herb, ginseng, has phytoestrogens.
The fact is that some phytoestrogens for men are likely a good thing. Of course, not all phytoestrogens are equal either. These are truly different compounds that each have different effects.
Much more important is that you avoid XENO-estrogens as much as possible. These are the human-made chemicals, ones not found naturally in nature, that tend to have much worse effects. BPA and phthalates found in most plastics, pesticides, and fungicides in conventionally raised food, parabens in most lotions and skin care, etc.
The fact is that some phytoestrogens may help combat xenoestrogens, which have no known helpful role in the human body.
As always we encourage you to experiment and find what works for you. Dong quai for men could just happen to be one of the best herbs for them. There's only one way to know for sure… 
References:
1. Chang, C. et al. (2016). Protective effects of the roots of Angelica sinensis on strenuous exercise-induced sports anemia in rats. Journal of Ethnopharmacology,193, 169-178.
2. Zheng, R., & Zhang, H. (1997). Effects of Ferulic Acid on Fertile and Asthenozoospermic Infertile Human Sperm Motility, Viability, Lipid Peroxidation, and Cyclic Nucleotides. Free Radical Biology and Medicine,22(4), 581-586.
3. Hirata, J. D. (1998). Does Dong Quai Have Estrogenic Effects in Postmenopausal Women? A Double-Blind, Placebo-Controlled Trial. Obstetrical & Gynecological Survey,53(5), 295-296.
4. Circosta, C. (2006). et al. Estrogenic activity of standardized extract of Angelica sinensis. Phytotherapy Research,20(8), 665-669.
5. Gong, AG. et al. (2016) The estrogenic properties of Danggui Buxue Tang, a Chinese herbal decoction, are triggered predominantly by calycosin in MCF-7 cells. J Ethnopharmacol. 2016 Aug 2;189:81-9.
Latest posts by Logan Christopher
(see all)