Pine Pollen is said to contain testosterone as well as a number of other human hormones including:
Epitestosterone
Androstenedione
Androsterone
DHEA
Progesterone
Is this true?
The answer is unclear. Prior research says yes. However, our own independent lab results said no.
It was only after digging deeper that we discovered why and this article will explain our findings.
Our Independent Lab Results
We've wanted to test the amount of testosterone and other hormones in our Pine Pollen for a long, long time. Unfortunately, the lab we worked with for our regular tests could not do it and we were unaware to find any other labs that could do it.
So it took us years to finally find a place that could test this for us.
And this lab test cost $8,106!
Our invoices from Avomeen are proof…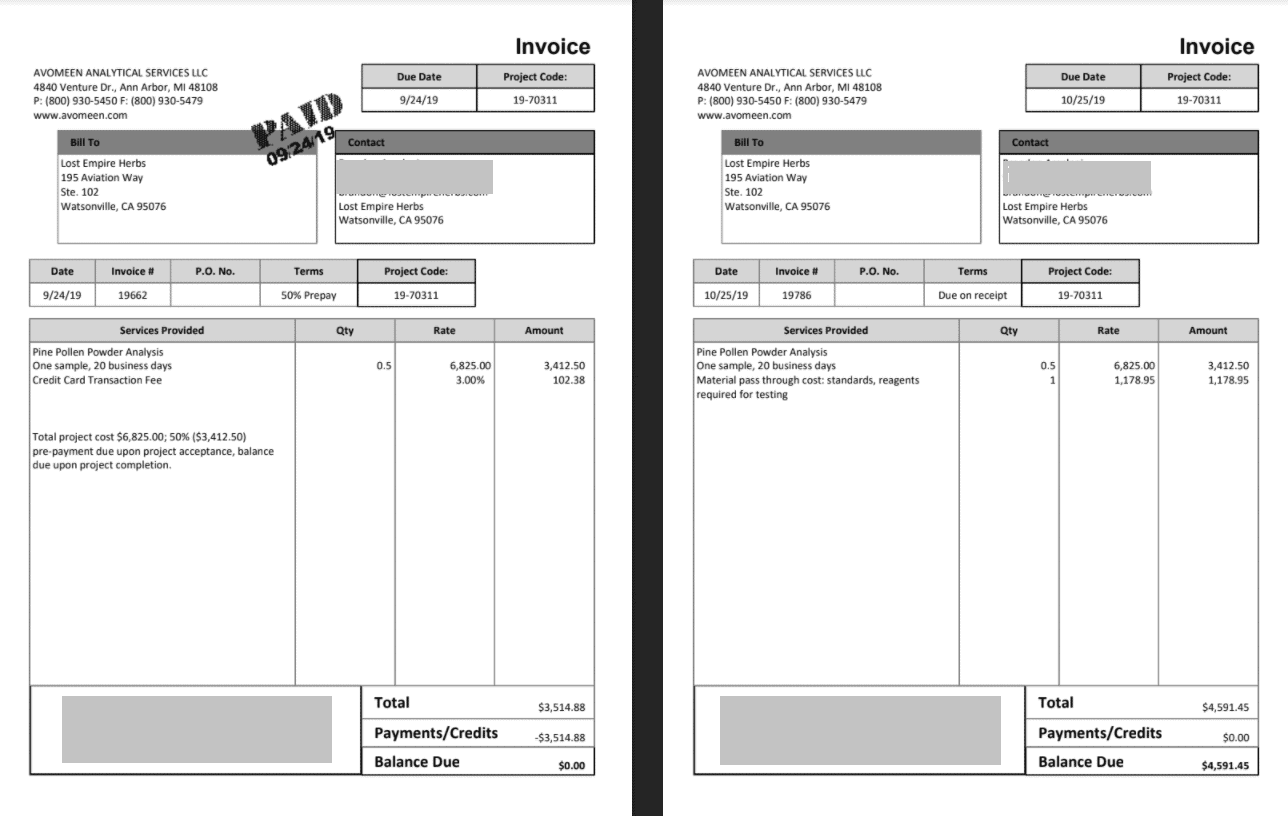 (I share this with you because it is important to us that we continue trying to innovate our most popular product. Everyone talks about the phytoandrogens in Pine Pollen, but no one can provide any details or actual measured levels.  Furthermore, armed with this information we may be able to figure out if certain tincturing methods can produce better concentrates of these amounts. Our herbs are more expensive than others because we do independent lab testing. However, most of our tests are not this expensive. Thankfully!)
The testing method this lab uses is LC-MS/MS (liquid chromatography with mass spectrometry). Which becomes important later on when we start to compare it to previous research.
Our results: NEGATIVE
You can read the complete lab report HERE.
If you're like me your eyes will glaze over reading it real quick. But here's the breakdown on what it all means.  The short version is: they did not detect ANY hormones at all.
10ppb is equivalent to 0.01 mcg/g
TS (testosterone)
ET (epitestosterone)
AD (androstenedione)
500ppb is equivalent to 0.5 mcg/g
DHEA
AS (androsterone)
Conversions have to be made to the numbers from prior research. To keep it short, these detection limits should have caught the testosterone, epitestosterone, and androstenedione, but not the DHEA and androsterone. That is making the assumption that our Pine Pollen had similar amounts to the Pinus species previously tested.
Now, let's look a bit deeper into this and their methods…
Prior Research on Pine Pollen and Hormones
Hormones were found in the pollen of the Scotch Pine, Pinus silvestris L, and according to that study, testosterone, epitestosterone, and androstenedione are in the pollen of Scotch Pine P. silvestris.[1] This testing was done using the VIS method (spectrophotometry in visible light).
Hormones have also been found in all the other Pine Pollen species that were analyzed.
Black Pine Pollen, Pinus nigra: androstenedione (0.7-0.8mcg per 10g), testosterone (0.7mcg per 10g), dehydroepiandrosterone (0.1mcg per 10g), and androsterone (0.2mcg per 10g)[2]
Lacebark Pine Pollen, Pinus bungeana: testosterone (0.11mcg per 10g) [3]
Chinese Red Pine Pollen (aka Southern Chinese pine), Pinus tabuliformis: testosterone (0.27mcg per 10g) [3]
In a paper titled, Mammalian Sex Hormones in Plants, it stated, "Extensive studies of the occurrence of mammalian steroids in plants (128 species from over 50 families) were carried out using radioimmunoassay in 1989. These methods allowed detection levels of about one part in 109." [4]
Another paper stated,  "Natural occurrence of steroid hormones in food", used gas chromatography-mass spectrometry (GC-MS). The difference in gas and liquid may be significant. [5]
A good review of most of this information can be found in Plants Are Capable of Synthesizing Animal Steroid Hormones.[6] This shows that "human" hormones are found in quite a few different plants, but all in very small amounts.
This information about the different testing methods didn't come to light until after we received our negative test results – which we had expected to test positive.
So did we do the wrong kind of test?
It appears so. Previous tests DID find the above hormones.
So back to the drawing board. We will continue investigating this matter as we search for a lab that can perform one of the other testing methods used in the above studies.
Did We Bury the Results?
You might notice that the test was done back in October 2019 and yet we're only putting this out now, in February. Why is this?
Well, we had to dig deeper to find out why the results were negative, converting the numbers and all of that. This may be Greek to you, as it was to me. But understand that my brothers and I got into this business without any sort of background in supplements, science, etc. So it's been one big learning curve from the get-go!
We have spent some time looking at other labs, including for phytoandrogens, so maybe we can get positive numbers to share at the same time. However, finding labs that do this is proving to be equally as difficult.
So after waiting to see if we might be able to get more information, we decided to make the call to just share these results. Which meant, we also had to sit down and write this article,  film a new video, and find a date open on our content calendar to get it published, so it took us a little bit of time and planning to get everything together and ready to release.
But, I'm committed to NOT engaging in the "file drawer effect," which means…not publishing research that doesn't align with what we want to see or show (something other companies *cough* big pharma *cough* does).
Honestly, it just took us some time to figure out the appropriate next step and response…along with everything else we have going on daily.
What this Means to You
Pretty much, nothing!
Understand that this in no way affects the performance of our Pine Pollen. They say that these small amounts of hormones would be insignificant amounts to actually affect human endocrinology anyway, though I don't necessarily believe this.
Even if there were no "human" hormones, it still seems to be working phenomenally great for people. It might be more of the phytoandrogens like brassinosteroids that do the work.
Still, we're going to continue searching for a couple of different things. One is a lab that does, likely radioimmunoassay, to test for the same androgens.
We're also on the lookout for a lab that can test for brassinosteroids, gibberellins or some of the other phytoandrogens inside of our Pine Pollen.
Armed with this information, we would then like to also test our tincture, and test some different extraction methods which may yield an even stronger extract.
This is our goal! Wish us luck as we continue on with this confusing (and expensive) endeavor…
References:
Saden-Krehula M, Tajić M, Kolbah D. Testosterone, epitestosterone and androstenedione in the pollen of Scotch pine P. silvestris L. Experientia. 1971 Jan 15;27(1):108-9. https://www.ncbi.nlm.nih.gov/pubmed/5549221
Šaden-Krehula, M., Tajić, M., & Kolbah, D. (1979). Sex hormones and corticosteroids in pollen of Pinus nigra. Phytochemistry, 18(2), 345–346. https://www.sciencedirect.com/science/article/abs/pii/0031942279800989
Zhong-han Y, Yin T, Zong-xun C, Tsao TH (1994) The changes of steroidal sex hormone – testosterone contents in reproductive organs of Lilium davidii Duch. Acta Bot Sin 36: 215-220
Anna Janeczko & Andrzej Skoczowski. Mammalian sex hormones in plants. Folia Histochemica Et Cytobiologica. Vol. 43, No. 2, 2005 pp. 71-79. https://pdfs.semanticscholar.org/8d58/32396a92cfa2ff635bea319c08fbdcd08bcd.pdf
Sonja Hartmann, Markus Lacorn, Hans Steinhart. Natural occurrence of steroid hormones in food. Food Chemistry Volume 62, Issue 1, May 1998, Pages 7-20. https://www.sciencedirect.com/science/article/pii/S0308814697001507?via%3Dihub
Danuše Tarkowská. Plants are Capable of Synthesizing Animal Steroid Hormones. Molecules. 2019 Jul; 24(14): 2585. https://www.ncbi.nlm.nih.gov/pmc/articles/PMC6680614/
Latest posts by Logan Christopher
(see all)