Welcome to the Comprehensive Guide to the Benefits of Shilajit. If you're looking for a safe yet effective way to improve your health in general, then shilajit could just be what you need. It is a complete package filled with minerals, antioxidants, and other essential nutrients. Using this all-natural substance can benefit you in many ways as it has anti-inflammatory, anti-anxiety, anti-ulcerogenic, anti-diabetic, anti-allergic, and anti-fungal properties. We'll talk more about the benefits and dosage of shilajit a little later.
But, first: what exactly is shilajit?
Shilajit is a thick and sticky substance with the same characteristics as that of tar. It is usually dark brown, but can also come in white and lighter shades of brown. Also referred to as salajeet, moomiyo, and mumijo, shilajit is usually found in the Himalayan Mountains, including Tibet Mountains and Caucasus Mountains.
It is said to contain a large number of minerals and nutrients which are essential for good overall health. It is also a good source of antioxidants and known as an aphrodisiac, a substance helpful in increasing men's appetite for sex. In fact, it was named the "Indian [Insert Popular ED Drug that we're not allowed to name here]".
History of Shilajit
Shilajeet was first used in Ayurveda, which is the traditional system of medication in India. According to the Charaka Samhita, an old Ayurvedic text, all curable diseases can be treated using Shilajit provided it is taken at the right time, proper dose, and in combination with appropriate substances.
Shilajit comes in different color ranges, although normally, they come in brown to black. The color of shilajit depends on its content. According to Ayurvedic medicine, those that come in darker colors are the most effective.
People also describe shilajit as "rock sweat" and sometimes "mineral oil" because it comes out from cracks in large rocks as a result of the heat of the sun.
However, until today, there is no reliable evidence of the biological or even geological origin of shilajit.
Mythology of Shilajit
Shilajit had a role in the old Hindu literature. Before King Chandra Varma, the ruler of northern India, achieved stability and peace in his land, he had to spend many years of protecting and defending it.
He was already in his 60's when he finally had time to enjoy all the natural pleasures life has to offer, including youthfulness. He was deeply saddened by the fact that despite his power and wealth, he could no longer bring back what was long gone.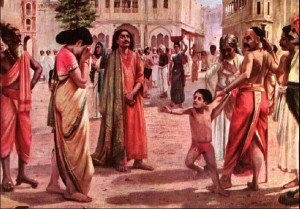 This made King Chandra Varma go to Himalayan Mountains for penance. He solemnly prayed to the highest of all Hindu Gods and creator of Yoga, Lord Shiva. The god was pleased, and so he gave King Chandra Shilajit, which was said to have originated at that time from the body of the god himself.
King Chandra Varma regained his youth after taking shilajit, and he was then believed to have had become an immortal. Emperors Xerxes and Darius of Persia, as well as Emperor Genghis Khan of Mongol, are believed to have used shilajit and even shared it with their troops during that time.
How is Shilajit Gathered?
Mumijo is often found in the mountains of the Himalayas – between cracks of large rocks. It occurs naturally after an organic matter dies and mixes with microbial metabolites and minerals from different sources (soil, water, etc.). After fermentation period, they naturally come out of the rocks due to the sun's heat, and this is when they are harvested. They are manually scraped from the rocks and then processed to remove impurities. The outcome is a homogeneous paste-like material in dark brown to black in color. It appears glossy with a bitter taste and bitumen-like smell.
Nutrient and Mineral Components in Shilajit
Even before the early times, Shilajit is believed to have many uses particularly in the health and medicine field. It contains more or less 85 minerals and nutrients in ionic form, as well as selenium, fulvic and humic acid, and phospholipids. These compounds make a good source of antioxidant and energy-enhancing components.
There is about 60 to 80 percent of fulvic acid found in Shilajit, and according to studies, the higher the fulvic acid content, the better anti-aging properties are. Shilajit promotes healthy digestion, improves vitality, and detoxifies the body. It is also a known aphrodisiac.
Uses and Benefits of Shilajit
Shilajit promotes healthy metabolism because it contains 85 minerals and nutrients which help in proper digestion. Its minerals are not like of those found in health supplements because they are in ionic form. Minerals that are in an ionic form are easily and quickly absorbed by the cells of the body. This helps greatly in maintaining the catabolism, as well as anabolism process in a good equilibrium condition. It also detoxifies the body, flushing out the toxins within.
[pt_view id="ab7e7465op"]
It is known even during the 21st century that fulvic acid from shilajit is a far more superior than any other sources available. A sufficient amount of fulvic acid found in Silajeet helps fight aging. Fulvic acid helps speed up the penetration of the cell walls, which is essential for the absorption of minerals. This is the most significant role of Shilajit, which reverses the process of aging.
Although proper diet and health supplements are very important for for anti-aging purposes, they lack the effect shilajit has because of the potency. Shilajit as an antioxidant helps neutralize free radicals in the body. Needless to say, these are harmful components, which have the ability to block nerves and arteries.
People who take shilajit do not only get healthier and younger-looking skin because fulvic acid works from within, but they also benefit from cells regeneration inside the body thus improving even the condition of the internal organs. Taking shilajit prevents kidney disorders, liver diseases, heart problems, and other health conditions. It also helps regulate menstrual cycle in women.
Shilajit is a powerful aphrodisiac for men. While most aphrodisiacs are not really effective and are just believed to be effective as in with "placebo effect," Shilajit is proven effective by many of its users. While it is a potent sexual enhancer in men, it can also be an effective aphrodisiac in women by combining it to another substance called ashwagandha.
Shilajit is also known for its energy-enhancing properties. Free radicals that are properly neutralized helps unleash and at the same time, increase stamina and energy. Those who take it at proper dose may feel rejuvenated and energized.
Because Shilajit is said to have ushan virya, it could also work as pain-reliever and anti-inflammatory medicine. Because it is dry, hot, and light, it can suppress pain deriving from arthritis and rheumatism.
Other benefits of shilajit:
It helps prevent stress, anxiety, and depression.
It helps fight insomnia.
It improves the appearance of the skin.
It strengthens the immune system.
It improves lung functions.
It improves blood circulation
It reduces the risk of ulcers
Find more about shilajit benefits here.
Shilajit in Combination with Ashwagandha
Many people take shilajit together with a tonic herbal product, such as ashwagandha. Ashwagandha, also called withania somnifera, is a plant which works as an adaptogen. It possess almost the same properties as that of shilajit, including pain-relieving, anti-inflammatory, and antianxiety. When taken along with shilajit, the effect is astoundingly impressive.
The ashwagandha dosage to be combined with shilajit varies widely depending on if you're using a raw powdered form, an extract, or something else.
Shilajit helps to bring out the best in ashwagandha. As a result, the person becomes more focused and rejuvenated.
It also increases his desire for sex, while in women, it can actually help regulate menstrual cycle and even improve fertility.
Availability of Shilajit
Shilajeet or moomiyo is available in many online stores as well as local pharmacies. They come in different forms, including capsules, liquid, and powder. Capsules at 500mg each are the most common form of shilajit offered online and in local stores. They are preferred by many people because they are easier to ingest and find. On the other hand, you can also find Shilajeet in its purified, raw form in online stores.
Shilajit Dosage
The proper shilajit dosage depends on several factors including age and health condition of the user, and brand and form of the shilajit. The amount may be 100 milligrams or 1 gram or more per dose, up to several times a day, depending on these factors. You can add it to a beverage, as what ancient people in Pakistan, Nepal and India used to do. They add it to raw or fermented milk.
How long should you be on it? Optimally? Your entire life. They say if you take shilajit every day for 12 years, it will add 12 additional years to your life.
The ideal shilajit dosage time is first thing in the morning along with the sunrise, though can also be taken at any other time in the day.
Shilajit dosage depends on which Shilajit type you plan on using. The goal of this section is to give a short overview of different types of Shilajit, their dosage and usage.
Brown Shilajit Dosage
For most issues, brown Shilajit dosage ranges from 300 to 500mg per day. In powder form, it has to be dissolved in water and taken at any time of the day. If you don't suffer from any rare side effect like headache or a rash, you might want to increase the dosage 50mg per day until you reach the maximum allowed dosage of 500mg per day. In case you notice any unwanted effects, try to cut back on Shilajit until you feel normal again.
Nepalese Black Shilajit Dosage
Nepalese black Shilajit combined with Triphala shouldn't be taken every day, but only when you want to cleanse your body. In any case the dosage is 1 tsp, but it depends on whether you want a mild or strong cleansing effect. For the first one just take 1 tsp each day to cleanse the body.
For serious cleansing it is recommended to put 1 tsp of black Shilajit in a glass of juice or water and leave it there for a couple of hours. For best results, drink about a liter of warm water with a bit of salt in it, 45 minutes after taking black Shilajit.
Pure Shilajit Mineral Pitch Dosage
This is the strongest type of Shilajit available and it comes in a form of a pitch like substance, unlike brown Shilajit which is in powder form. It works best when dissolved in water or by taking a piece of it and letting it dissolve in your mouth. Truth to be told it doesn't taste good, but it works like a charm. There is no precise rule for dosage and the best thing to do is to simply stop drinking it when you reach a point when you don't feel like having more of it.
Who Can Use Shilajit?
Moomiyo or Shilajit is very safe to use when taken in at small doses at appropriate intervals. It may also be used at high doses if you want to improve immunity and vitality. However, there are no studies yet which proved that pregnant women and lactating mothers can use shilajit. Therefore, it is better to stay away from it if you are pregnant or breastfeeding. Note also that it has warming properties which may double the effect if used with other warming products.
Shilajit Side Effects
To make sure you do not get side effects, following the directions printed on the label of the product is worth noting. In case you are going to use the purified shilajit resin, it is best to experiment the dosing very carefully first. You might want to begin with a small dose on your first try, then increase by a bit afterwards.
There is no better way to find out the appropriate dose of a substance but with doctor's advice. So, if you are planning to take shilajit, always talk to your doctor or ayurvedic practitioner first.
[pt_view id="ab7e7465op"]
Those who use shilajit often find no negative effects. However, those who have gout my want to stay away from it since it can make the uric acid level high. Furthermore, overdosing may occur if you take it with an iron supplement. Note that shilajit is rich in iron.
Find more about shilajit side effects here.
Though every one is different, shilajit allergies are probably not actually allergies to shilajit, but problems with inferior quality products that claim to be shilajit when they're not or have harmful additives.
If you are using it together with ashwagandha, remember to discontinue right away if you are pregnant. Studies show that ashwagandha contains substances that may cause miscarriage in some cases.
Beware of Fake Shilajit
Shilajit is safe for everyone when used in proper dose. However, it can be dangerous if you use raw, as it still contains plenty of impurities which can negatively affect some individuals. You don't necessarily need machine-processed shilajit, but manually by hand. On the other hand, it can also do more harm than good if you take fake moomiyo. They contain heavy metals and other substances which you don't want in your body.
Dabur, a big company that distributes Shilajit, was found to be providing low quality shilajit. According to the World Health Organization, Dabur products contain dangerous levels of mercury, arsenic, and lead.
Some people who buy Shilajit think that what they are buying is good Shilajit. This may happen to you too if you don't know how to tell real from fake. There is a substance that have the same physical properties as that of shilajit – and it is called ozokerite. It is another humic substance that looks exactly the same as shilajit. However, it has no medicinal benefits. To easily determine if the product is ozokerite, you may want to run a test. If it takes a while to melt, then it is possibly fake shilajit.
There are certain ways to tell whether a shilajit is a good buy or not. For dry shilajit, it must have 1.1 up to 1.8 gram/cubic meter density level. It has the properties similar to that of plastic, which hardens when exposed in temperature below 20 degrees Celsius and melts when heated. Shilajit, when mixed in water or any other liquid, melts very thoroughly and does not leave any trace or residue. It turns soft when played between the palm of the hands or fingers.
And lastly, it takes forever to expire. That's right: it lasts forever and doesn't have an expiration date.
How to Recognize Quality Shilajit
If you have heard about the benefits of using shilajit, then perhaps you are thinking of trying it yourself. However, the problem these days is that it is not as easy to get as it was before. As a result, the chances of getting fake or counterfeited shilajit products are somewhat high. To prevent this from happening and to make sure that you are not risking your health, here are some things to put into account.
As much as possible, go for solid shilajit

. While not all shilajit in capsule form are fake, many of them are. This is because capsules are definitely the easiest type to fake. Manufacturers can simply start with a small portion of shilajit and then just add fillers that look the same as it.

Get it from a trusted provider

. Dozens of providers are available online, not to mention the choices you have at local stores. So, if you can find time to research and know where is best to get shilajit – do it. This may take some time, but you only have to do this once, especially if you are fortunate to find a reliable seller on your first try.
How to use Shilajit to treat stretch marks
Can Shilajit help you to get rid of stretch marks? This sticky substance can be brown or black in color with a consistency of tar. It is mainly harvested in two regions, Caucasus and Central Asia. Centuries of tectonic movements, pressure, and heat caused vegetal, animal and mineral substances to mix together in order to create Shilajit.
Moomiyo, which is another name for Shilajit, contains many essential oils, humic acid, humin, polyphenols, fulvic acids and tons of other beneficial nutrients. Even Aristotle wrote about Shilajit and its power for treating various conditions, used by people in Central Asia. On the other side, Russians have been testing Shilajit for more than 70 years, discovering a great potential for sports performance and health benefits.
Since Shilajit is proved to increase tissue regeneration, people started using it to get rid of stretch marks. This technique became very popular and women around the world are saying that results are visible after just two applications.
The easiest way to use Moomiyo for treating stretch marks is to obtain Shilajit in powder form. Simply mix this powder with topical oil or just water and apply it into stretchmarks. The rejuvenation property of Shilajit combined with massage has a positive effect on dermis and epidermis, making the stretch marks go away.
Shilajit is not the only solution for stretch marks, but it is by far the healthiest one. Some procedures are traumatic for our skin, while other may fail and leave scars that look worse than stretch marks.
Shilajit doesn't come with side effects and it's a purely natural product.
A unique mix of rejuvenating substances in Shilajit provide a soothing effect on upper epidermis, while boosting blood flow to the run-down dermis.
There are many ways you can use Shilajit powder to get rid of stretch marks.
1. Mix one teaspoon of water (distilled) and two grams of Shilajit powder. After that, take around 3oz of any cellulite cream and add it to the mix. Keep it in a refrigerator and use it once to three times per day to massage the problematic area for around five minutes. You can use it up to three times per day for faster results, but keep in mind that using it just before going to bed provides the best results.
2. Make use of rose oil (use your best judgment for the quantity) and mix it with one gram of Shilajit. Apply this remedy directly to stretch marks before going to sleep.
3. Take around 40ml of topic cream and mix it with four grams of Shilajit. Use a circular motion to strongly apply it into stretch marks once a day, before bed.
Keep in mind that Shilajit is mostly used for treating small to medium stretch marks. The big ones are hard to get rid off with even with plastic surgery, so we cannot expect Shilajit to remove them altogether. But the effect is absolutely great for small stretch marks, which often disappear completely.
Make sure to arm yourself with patience, as shilajit treatment for stretch marks resembles a marathon rather than a sprint. It takes time, but in a couple of months you should be able to see the effect.
Shilajit Pitch Shake Recipe
In this video, you'll learn how to take and use our new shilajit pitch, plus get a shake recipe I use frequently.
You can break or cut a small chunk off of it and eat it straight. It has a potent taste so this may not be the best method, as it will also take some time to dissolve in your mouth.
Instead take a small chunk and throw it into a bottle or glass. Fill this up with water and let the shilajit pitch dissolve. Depending on how large an amount of shilajit you use and how much water it can turn into a stronger or weaker tonic drink. Simply drink it and keep adding water until all the shilajit has been consumed.
Another method is to take the shilajit dark water and use this as the base for your smoothies or shakes.
In the shake I make on the video I'm doing a modified version from something I have fairly regularly. Here's a breakdown of what is in my regular post-workout shake:
Dark Water from shilajit pitch
Banana
Chia Seeds (about 2 TB)
Cacao powder (1 heaping TB)
Dandy Blend (1 TB)
Coconut Oil (2-3 TB)
Honey (1 TB)
Cinnamon (maybe 1/2 tsp)
Whey Protein (1 scoop)
Upcoming Mental Formula
These ingredients and amounts are not written in stone. Feel free to modify them to suit your preferences and what you have available. Give it a try and let me know how you like it.
Sticky Shilajit Resin Problems
Problem Prevention
The resin is extremely sticky as you might imagine. As such when you use it you want to make sure it does not get in the threads of the miron glass or lid. If it does and you screw it on, you may be unable to unscrew it.
So be very careful when taking it out. And if you do get it on the sides, use a wet towel to clean it off.
Use the backend of the tiny spoon to scoop out a small amount, about the size of a small pea, and make sure any of the resin that is trying to come up too goes right back down.
You can also only keep the lid loosely on and set it on a flat service if you're not traveling with it.
Opening a Stuck Lid
Now let's say that it's still stuck shut. There are a few options.
1) Use a wrench or pliers. It is possible this could break the jar so wear protective gloves when doing.
2) Add more grip, then do a test of hand strength. I place some textured duct tape on a stuck jar and was able to eventually open it. Of course, my hands are pretty strong.
3) Set it in boiling water, or a double boiler system would be more ideal, to heat it up. The resin will get softer with heat and thus you may be able to open afterwards. Of course use oven mitts when handling because it will be hot!
4) Set it in the oven and do the same. Once again, handle with heat protection and care.
Help! My Resin has Hardened
If over exposed to air, the resin could become harder. As before exposing it to heat, as in points three and four above may help restore it to a resinous matter.
It could also be chipped off and basically used as a powder.
In addition, we are investigating other possible packaging solutions that would make all this a non-issue.
For now, if you want the benefits of shilajit resin you'll have to work for it.
(And if nothing works here, as a last resort, you are welcome to use our 365 Day Money Back Guarantee.)
Shilajit powder is also available which is a bit easier to use.
Final Thoughts on Shilajit
Shilajit is considered safe in many countries including the United States. Using it appropriately gives you a good number of health benefits. Even stronger than health supplements, shilajit is a good source of minerals, antioxidant, and fulvic acid. It helps fight aging, detoxify the body, improve immunity, maintain healthy digestion, relieve stress, pain, and inflammation, and prevents many types of diseases.
Click here to see which types of Shilajit we have for sale.
References and studies:
Latest posts by Logan Christopher
(see all)