Suffering from high blood pressure and interested in the best Chinese herbs to remedy hypertension?
Then you've come to the right place!
What exactly is hypertension?
High Blood Pressure is a common medical condition that affects many men and women, and is referred to as Hypertension in medical terminology.
Blood pressure is a measurement of the force of blood against the arterial walls as the heart pumps blood all through the body.
When blood pressure exceeds normal levels it can become very damaging to the body and we call it high blood pressure.
It can be caused by various factors such as stress, obesity, improper diet, ethnicity, heredity or excessive intake of salt. It can also result from endocrine disorders and kidney failure.
Most commonly though, as men and woman age, the blood vessels tend to stiffen and there is a consequent rise in blood pressure.
Chinese Herbs For High Blood Pressure
The Chinese people have long used herbs in the treatment of hypertension, and the following herbs are used to this day for treating high blood pressure problems.
Danshen Root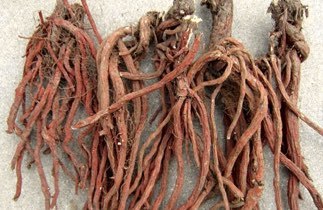 Roots of Danshen refer to a kind of sage called Salvia miltiorrhiza which can help in reducing high blood pressure and also cardiac problems.
Danshen root is packed with natural chemicals which can aid in reducing heart rate, allowing blood capillaries to relax and prevent clotting of blood.
This herb can be consumed as an extract or as a capsule or you can ingest the extract of Danshen root in the form of an herbal tea. You might also hear it referred to as Dan Shen Root. Its health benefits are many.
A safe dose is no more than 1.5 grams of Danshen root.
Mung Beans
Mung beans (Vigna radiata) have long been used for treating high blood pressure. This is a type of vegetable which has been grown for a long time in China.
Mung bean is packed with essential nutrients which are required by the body for various physical processes. You can consume Mung beans alone or along with various other fruits and vegetables. You might even consider making a delicious soup that's good for hypertension.
According to a study, 14 gm of protein is necessary for proper circulation of blood in the body and this amount is contained in 1 cup of mung beans. Mung beans are packed with beneficial nutrition including protein and healthy peptides.
Celery Seed
Celery seed (Apium graveolens) has been used for many years in China for treatment of high blood pressure problems.
Consuming celery seed extract over a long time can reduce the level of potassium in your body while also raising the blood pressure. This is due to the fact that celery is a rich source of salt. As well as being an all-natural remedy for high blood pressure, celery is also useful in curing various other health conditions such as high cholesterol, insomnia and gout.
A recent study on celery seed extract in hypertensive rats showed that all extracts of celery seeds reduced the blood pressure and increased the heart rate in hypertensive rats. Also, the extracts had no effect on blood pressure and heart rate in normotensive groups.
This readily-available, holistic and affordable ancient Chinese herbal remedy obviously deserves serious consideration for the treatment of hypertension.
Pu-Chung-I-Chi-Tang
Pu-Chung-I-Chi-Tang is a Chinese medicinal formula which is a blend of astragalus and ginseng, two potent Chinese adaptogen herbs.
When consumed on a regular basis, it can help reduce high blood pressure back to healthy levels.
You may choose to consume Pu-Chung-I-Chi-Tang in a powdered form or as an herbal tea. Alternatively, you may simply take daily doses of the two herbs astragalus and Korean panax ginseng.
Tian Wang Bu Xin Dan
Tian Wang Bu Xin Dan is a traditional medicine that has been used in China for a long time as a powerful herb for hypertension.
You might have also heard it called tianwang buxin, which is basically a powerful herbal combination of ginseng and Ziziphus.
It can be very effectual in providing patients of high BP with a healthy remedy, considering the fact that the traditional Chinese medicine is packed with a variety of healthy herbs.
You might be interested in this video showing how Mr. Zhang was allegedly cured of his chronic hypertension by traditional Chinese herbs.
As with all of the herbs mentioned on this page, it is best to take the Tian Wang Bu Xin Dan after consulting your physician.