Boron is interesting in that its elemental form is not found in earth, but in meteorites. It is a trace mineral that has many functions within the body, though only lately has this come to light.
What it Does and Benefits
• Cell wall strength
• Helps the body to use glucose
• Builds strong bones and healthy joints
• Aids muscle building
• Increases testosterone levels
• Modulates estrogen levels
• Plays a role in other hormones and
vitamin D metabolism
• Improves muscle coordination
• Enhances brain function, memory and alertness
• Decreases lipid build-up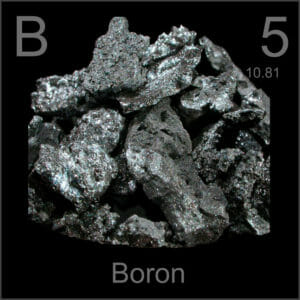 Studies in osteoporosis have shown boron as a supplement to be successful in preventing bone loss and demineralization.1
It is probable that these effects can come as a result of its effects on hormones, notably testosterone and estrogen. In menopausal women, boron supplements have been shown to help support estrogen production as well as testosterone.2
And in men improvements in testosterone have been seen (more specifically increases in free testosterone, DHT and a decrease in SHBG).3
Animal research points to boron assisting in the utilization of vitamin D.4,7 This in turn undoubtedly has an impact on the other hormones, since it is a hormone precursor. Vitamin D also plays other roles assisting in reducing inflammation and the immune system.
Several studies in people with osteoarthritis also sees help with boron supplementation.6
"In areas of the world where boron dietary intakes usually were 1 mg or less/day, the estimated incidence of arthritis ranged from 20% to 70%. On the other hand, in areas of the world where boron dietary intakes were usually 3mg to 10mg, the estimated incidence ranged from 0% to 10%."5
The other main action of boron supplements appears to be its calcium and magnesium sparing ability. Less of these nutrients get flushed out in the urine with a higher boron intake, which is another way in which it may promote bone and joint health, in addition to the hormonal action.
It is possible that the body will uptake aluminum in place of boron, due to their close elemental nature. As aluminum is implicated in Alzheimer's, while boron seems to bring some cognitive improvement, there could be an interesting connection here.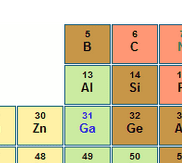 Signs and Symptoms of Deficiency
There is no known specific deficiency disease with boron.
However, deficiency symptoms may be directly connected with osteoporosis, arthritis as well as low hormone levels as previously covered. Symptoms also include various degrees of cognitive impairment.
Ratios or Interactions with Other Minerals
Because of its role in sparing other minerals, boron supplementation may decrease the amount of magnesium, calcium or phosphorus excreted by urine, and this less of those would be needed.
It is probably a good idea to take boron along with any supplemental vitamin D to assist its use.
How Much Do You Need? What is the RDI? What is optimal?
The RDI is not established for this trace mineral. A tolerable upper limit appears to be 20 mg per day before side effects are seen. The US National Institutes of Health state that normal boron intake is 2.1-4.3 mg/day, though some people seem to get much less, often less than 1 mg/day, which does appear to cause deficiency.
I would say an optimal amount is somewhere in the 3-10 mg/day range. Therapeutic doses used in some of the treatments mentioned above are typically between 1 and 6 mg per day and this is taken as supplementation in addition to what is acquired in the diet.
Where to get it in diet?
Boron is mostly found in non-citrus fruit and vegetable sources. In general plant sources tend to be better than animal sources. Brazil nuts, almonds, hazel nuts, cashews, peanuts, walnuts are all good sources.
Raisins top the list at 4.51 mg/100 grams. Other dried fruits like apricots, prunes and dates are also decent. Of foods that you're more likely to eat a lot of, per 100 grams, avocado has 2.06 mg, kidney beans has 1.4 mg, brazil nuts 1.72 mg.
Coffee and wine also appear to be decent sources.
Supplements
Boron typically comes naturally in a complex of boron and fructose, such as calcium fructoborate, hence why it is found in most fruits and vegetables. Some supplements now mimic this as it shows high absorbability.
Ionic boron also seems to work well as a supplement.
Many other forms are used including boron citrate, boron glycinate, boron aspartate, calcium borogluconate and others. It's hard to judge what is the best option.
Supplemental amounts of 3-10 mg is what has been used in most of the studies showing many of the different benefits. This dosage appears to be completely safe.
Of what we have tested so far, shilajit powder comes in the highest of our herbs with .18 mg/gram which is not a whole lot so if you're looking for larger doses individual supplements may be the way to go.
Special notes
Sodium borate, more commonly known as borax, is used extensively by the nuclear industry. Boron was used in the cleanup of the Chernobyl disaster. It has also been used more recently in Fukushima.
It is also used to protect astronauts from radiation in space. It is the only mineral that absorbs radiation and releases it without changing neutrons. Thus having an adequate supply seems one of the best ways to preserve your body from radiation exposure.
Sources:
Comparative effects of daily and weekly boron supplementation on plasma steroid hormones and proinflammatory cytokines.
Epidemiologic Relationship Between Osteoporosis, Arthritis and Low Boron Exposure
Latest posts by Logan Christopher
(see all)