Blood pressure is one of many issues that comes into play with erectile dysfunction. This can be a confusing concept because it's a bit counter-intuitive.
Let's start with the basics.
A penis gets erect by blood flowing into it.
This occurs because the spongy tissue within, called the corpus cavernosum and corpus spongiosum, are filled with blood vessels and smooth muscles. Signals from the nervous system tell the smooth muscle to relax and the arteries to dilate. Blood flows in and, voila, you have an erection.
So the first counter-intuitive point is that it is relaxation, not tension, that causes an erection.
Pressure from the blood flowing in keeps the tissue around these chambers pressing on the veins that would normally pull blood out. You stay hard because blood is flowing in more than it is flowing out.
Losing an erection, for whatever reason, involves the smooth muscles relaxing which takes pressure off the veins so then blood can flow out.
Making sense so far?
Now, let's turn to how blood pressure plays into this.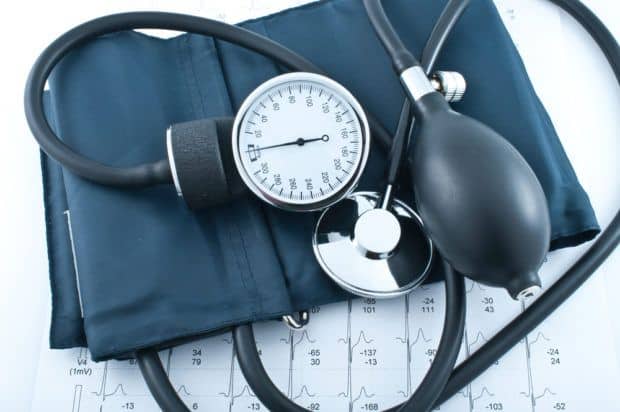 High Blood Pressure and ED
This is the second counter-intuitive point. You'd think that high blood pressure would be able to force the blood into the erect penis, but alas, that is not the case.
The arteries leading to the penis allow blood to flow in. But with high blood pressure, these may not be able to dilate as they need to. Chronically high blood pressure over time will lead to damage of the blood vessels. Think of too much gas or water in a pipe which could cause leaks and breaks.
Furthermore, this can cause the smooth muscle cells to begin to lose their ability to relax.
Blood Pressure Medications and ED
Drugs that are used to treat high blood pressure themselves can cause ED as a side effect. This includes diuretics and beta blockers that are often prescribed.
Diuretics do this by decreasing blood flow as well as decreasing availability of zinc (which can impact testosterone production among other things).
Meanwhile, beta blockers can stop the nerve response that triggers an erection in the first place. They also hamper the ability of the arteries to dilate.
I won't tell you to stop taking blood pressure medications. Just know that blood pressure is relatively easy to change through diet and lifestyle changes. Please talk to your doctor about how to do this if you would like to wean yourself from any medication. (And if your doctor says no then find another doctor who isn't just a drug-pusher and actually wants to see you be healthier.)
There are other blood pressure medications that are less likely to have these negative sexual side effects. These include angiotensin-converting enzyme (ACE) inhibitors, calcium channel blockers and angiotensin II receptor blockers. But note that these may have other side effects.
Low Blood Pressure and ED
Low blood pressure is not really implicated in ED. Sure, it is possible that there isn't enough blood pressure from which to fill a penis to erection, but judging by the mechanisms shown above, this doesn't seem very common.
However, as some people on high blood pressure medication suffer from ED as a side effect, as discussed above, this is where this idea may get linked.
Your Penis as a Canary in the Coal Mine?
Be aware that if you are suffering from erectile dysfunction, but seem to be otherwise healthy, this is possibly an early indicator of cardiovascular disease. Please don't leap to this conclusion because sexual health is complicated and there are many other reasons something could be off. But it is a possibility and worth investigating further.
One study of 45-70-year-old men in Finland found an association between diastolic blood pressure and ED, showing that these two are linked. [1]
But other possibilities include chronically elevated blood sugar levels (see diabetes and ED article here), low testosterone and much more. For additional reading, click here.
How to Regulate Blood Pressure and thus Related Erectile Problems
Surprise, surprise, exercise is one of the proven ways to improve both high blood pressure and erectile health. A meta-analysis of multiple studies found that "40 minutes of aerobic exercise of moderate to vigorous intensity 4 times per week. Overall, a weekly exercise of 160 minutes for 6 months contributes to decreasing erectile problems in men with ED caused by physical inactivity, obesity, hypertension, metabolic syndrome, and/or cardiovascular diseases." [2]

How does exercise work?
It has a hormetic effect. What this means is that the exercise actually works to increase blood pressure, temporarily. But the body then responds to this stressor by adapting to lower overall blood pressure. (And I would argue that resistance training in which blood pressure elevates, even more, would provide more benefits.) In other words, the stress of exercise on your blood vessels causes them to become better.
Diet and herbs can work the same way. One of the best herbs for cardiovascular and heart health is Hawthorn Berry as previously covered in this article.
Let's dive into the science around some of our herbs. We'll start with the higher-quality research and move to lower. (You can find all these products below, right before References)
In a systematic review and meta-analysis showed the Beet Root Juice had some blood pressure lowering effects, someone attributes this to the nitrates it contains.[3] And another meta-analysis found that other compounds in beets may be helping as it is not just the nitrates.[4] (I'd like to point out that beets and their juice, following the "Doctrine of Signatures" shows that it is great for the blood all around, because it looks like blood.)
That is two meta-analysis' meaning that's a good level of scientific confirmation that beets have this beneficial effect.
A review of studies for Chinese medicine, postmenopausal women with hypertension most commonly used Rehmannia as a single herb.[5]
Another study looking at post-menopausal women found that Maca delivered "significant decreases in diastolic blood pressure," though there were no changes in hormone levels.[6]
Ashwagandha, especially combined with milk as is often recommended in Ayurveda, was shown to decrease diastolic blood pressure in a group of 51 hypertensive subjects.[7]
Negative Results
It's important to look at not just what worked but what did not work. The following were a few studies that found no effects in regards to changing blood pressure.
In one study of Shilajit, people taking two grams per day did not have any changes in blood pressure.[8]
A review of studies on Reishi found that it did not lower blood pressure either.[9]
Other Herbal Possibilities
Please note that the rest of what is listed is rat and mouse studies which do not necessarily translate to humans. But these are what is available on a search in PubMed.
So there are many herbs that can possibly help. Nothing I found was looking specifically at ED caused by high blood pressure and herbs that helped this. But the aforementioned ideas should be a good place to start.
There are the other commons things to do such as stop smoking if you smoke, lower chronic stress levels, and eat healthier.
Remember that high blood pressure is just one of many possible causes of erectile dysfunction. For more on the basics and other causes see our main Erectile Dysfunction article here.
USD$ 39.99
Add to cart
USD$ 19.99
Add to cart
USD$ 25.99 – USD$ 35.99
Select options
USD$ 40.00
Read more
USD$ 21.99
Add to cart
USD$ 24.99
Add to cart
References:
1. Heikkilä A, Kaipia A, et al. Relationship of Blood Pressure and Erectile Dysfunction in Men Without Previously Diagnosed Hypertension. J Sex Med. 2017 Nov;14(11):1336-1341. https://www.ncbi.nlm.nih.gov/pubmed/28993149
2. Gerbild H, Larsen CM, et al. Physical Activity to Improve Erectile Function: A Systematic Review of Intervention Studies. Sex Med. 2018 Jun; 6(2): 75–89. https://www.ncbi.nlm.nih.gov/pmc/articles/PMC5960035/
3. Ocampo B., Paipilla AF., et al. Dietary Nitrate from Beetroot Juice for Hypertension: A Systematic Review. Biomolecules. 2018 Nov 2;8(4). https://www.ncbi.nlm.nih.gov/pubmed/30400267
4. Bahadoran Z., Mirmiran P., et al. The Nitrate-Independent Blood Pressure-Lowering Effect of Beetroot Juice: A Systematic Review and Meta-Analysis. Adv Nutr. 2017 Nov 15;8(6):830-838. https://www.ncbi.nlm.nih.gov/pubmed/29141968
5. Xiong X., Yang, X., et al. Efficacy and safety of Chinese herbal medicine for patients with postmenopausal hypertension: A systematic review and meta-analysis. Pharmacol Res. 2019 Mar;141:481-500. https://www.ncbi.nlm.nih.gov/pubmed/30639372
6. Stojanovska L, Law C, Lai B, et al. Maca reduces blood pressure and depression, in a pilot study in postmenopausal women. Climacteric. 2015 Feb;18(1):69-78. https://www.ncbi.nlm.nih.gov/pubmed/24931003
7. Kushwaha S., Betsy A. & Chawla P. Effect of Ashwagandha (Withania somnifera) Root Powder Supplementation in Treatment of Hypertension. Ethno Med, 6(2): 111-115 (2012) http://www.krepublishers.com/02-Journals/S-EM/EM-06-0-000-12-Web/EM-06-2-000-12-Abst-PDF/S-EM-06-2-111-12-203-Kushwaha-S/S-EM-06-2-111-12-203-Kushwaha-S-Tt.pdf
8. Sharma P., Jha J., et al. Shilajit: evalution of its effects on blood chemistry of normal human subjects. Anc Sci Life. 2003 Oct;23(2):114-9. https://www.ncbi.nlm.nih.gov/pubmed/22557121
9. Klupp NL, Chang D., et al. Ganoderma lucidum mushroom for the treatment of cardiovascular risk factors. Cochrane Database Syst Rev. 2015 Feb 17;(2):CD007259. https://www.ncbi.nlm.nih.gov/pubmed/25686270
10. Ma YG, Wang JW., et al. Salidroside contributes to reducing blood pressure and alleviating cerebrovascular contractile activity in diabetic Goto-Kakizaki Rats by inhibition of L-type calcium channel in smooth muscle cells. BMC Pharmacol Toxicol. 2017 Apr 26;18(1):30. https://www.ncbi.nlm.nih.gov/pubmed/28441970
11. Ciocoiu M, Badescu M, et al. The beneficial effects on blood pressure, dyslipidemia and oxidative stress of Sambucus nigra extract associated with renin inhibitors. Pharm Biol. 2016 Dec;54(12):3063-3067. https://www.ncbi.nlm.nih.gov/pubmed/27417664
12. Wu Y, Qian Z., et al. IcarisideII improves left ventricular remodeling in spontaneously hypertensive rats by inhibiting the ASK1-JNK/p38 signaling pathway. Eur J Pharmacol. 2018 Jan 15;819:68-79. https://www.ncbi.nlm.nih.gov/pubmed/29175071
13. Ziang F, Lin L, Hu M, Qi X. Therapeutic efficacy of a polysaccharide isolated from Cordyceps sinensis on hypertensive rats. Int J Biol Macromol. 2016 Jan;82:308-14. https://www.ncbi.nlm.nih.gov/pubmed/26432374
14. Ye BH, Lee SJ, et al. Preventive effect of gomisin J from Schisandra chinensis on angiotensin II-induced hypertension via an increased nitric oxide bioavailability. Hypertens Res. 2015 Mar;38(3):169-77. https://www.ncbi.nlm.nih.gov/pubmed/25427681
15. Chel-Guerrero L, Galicia-Martinez S., et al. Evaluation of Hypotensive and Antihypertensive Effects of Velvet Bean (Mucuna pruriens L.) Hydrolysates. J Med Food. 2017 Jan;20(1):37-45. https://www.ncbi.nlm.nih.gov/pubmed/27893308
Latest posts by Logan Christopher
(see all)