So many things in the health and nutrition world are confusing. Why is this? First of all, biology, dealing with living systems, is far more complex than physics or engineering where things tend to work the same. This sometimes is referred to as the difference between complex and complicated.
Secondly, what works for one person can do the exact opposite for another.
On that note here's a fantastic question from Garry.
Need some help. I am a new customer and waiting on your pine pollen to be delivered. I am a very healthy 75 year old combat wounded veteran and have a small ranch in SE AZ. I am active daily, work out in my gym M,W,F of every week as well as physical labor on my ranch every day. Only health issues, is Prostate at nights only, my thyroid goes up and down, and I am taking Beta-Sitosterol, Saw Palmetto & Guggul for that. I do have Agent Orange from Viet Nam, L2,3,4.5 injuries from the war, my pain on most days an 8, but so use to it, I don't notice, and I go 8-10hrs every day. So, I would like to gain some muscle back and hope your Pine pollen will help. I know my testosterone is low and at my age don't expect to be 30 again, but in my mind I am!

I enjoy all the emails and the reads you send. I take health courses online most days and one of the speakers in a recent class was Ocean Robbins, Here is what he had to say about Phytoestrogens which is about 180* from what I read on your website. So just need a little clarification and not looking for medical advice as I know you can't help me there! Please give me your opinion on this article, as I am really trusting in your website.
First of all, I wouldn't say it's 180 degree different than our website. Yet part of this confusion is my own. You see, my opinions on this subject have morphed a bit over the years. That's because I'm constantly learning. I evolve and so some of my writings that still exist on the website on this subject may be a bit outdated as to my current viewpoint.
That's why I wanted to answer this, not just for Garry but for everyone reading.
The summary of the article is this:
"For decades, some health influencers have waged what's practically amounted to a PR campaign against soy products. Because soy contains phytoestrogens, which are structurally very similar to the estrogen produced by the human body, these influencers argue that soy is a dangerous food that can cause cancer and other diseases by upsetting our natural hormonal balance. Recent research, however, increasingly shows that phytoestrogens may actually be good for you. So what's the truth about phytoestrogens? What foods, in addition to soy, contain them? And should you include or avoid them in a balanced, healthy diet?"
But please do go and give the article a read, or at least a scan, for yourself.
The most IMPORTANT part is not about phytoestrogens at all.
When we're talking about this subject, it is easy to get lost in it. But the most important part is there is mass agreement on…xenoestrogens. These are non-natural chemicals such as BPA, platicizers, flame retardants, pesticides and more.
These chemicals have endocrine disrupting properties. Some are estrogenic. Some are anti-androgenic, anti-thyroid and a wide variety of other disrupting ways.
The key thing that Ocean Robbins and I agree on fully is that these should be avoided and minimized as much as possible.
Sadly, you can't do away with them completely, because our modern day world is polluted in this way, but you still can do a lot.
My conclusion is that avoiding xenoestrogens is somewhere between ten to one hundred times more important and helpful than avoiding phytoestrogens.
Now that that is out of the way, next up lets actually talk phytoestrogens.
The article links to a study that that shows just how common these are in nature and our food supply.
I don't know anyone that is cutting out olive oil, coffee or blueberries because they contain phytoestrogens.
Still the numbers for these are magnitudes lower than soy which the article focuses on, as well as flax seeds. Contrary to many of the others, these are foods that are avoided for phytoestrogen reasons.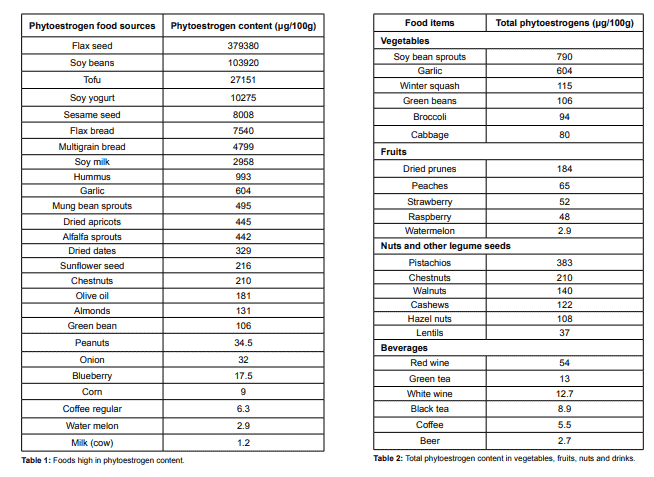 This might surprise some of you. I eat soy…but only if it is fermented. My wife makes a fantastic ramen, with a bone broth base that contains miso. (I'd eat tempeh too, but it's just not that great to me, and I'd way prefer meat instead.)
What I've learned is that Chinese and Japanese cultures ate plenty of soy but it was pretty much always fermented. The foods such as tofu, soy milk, and the wide variety of soy products added to so many products are examples of ultra processed foods that didn't previously exist. (Furthermore soy is one of the principle GMO ingredients today, so it should always be organic, though the vast majority is not.)
Tofu vs. miso are just not the same thing in my opinion. There is something special about the fermentation process that very likely changes the estrogenic impact of soy.
I do have flax seeds from time to time. But this one is complex too as you have the fiber, the lignans, and depending on what form you have may do more in pulling things out of your body instead of putting stuff in.
You have to be careful with flax…more because of its high amount of omega 3 fatty acids which are subject to easily going rancid. In my opinion this too is more of a concern than its phytoestrogen count.
Even a good number of herbs, including those known for supporting male health, such as He Shou Wu and Horny Goat Weed also contain phytoestrogens.
So are phytoestrogens healthy or not? There is science that goes both ways. A case can be made either way. And since we're dealing with nutrition science there is the fact that truth is magnitudes more difficult to really get to than on some other topics. Sadly most nutrition science is done to find evidence for pre-existing conclusions.
Robbins gives the one-sided positive phytoestrogen look at the science in that article, covering cancer, the immune system, heart disease, menopause, weight loss, cognitive function and more.
The wall of evidence is almost enough to make you want to guzzle soy milk…
But that's because it is one-sided. Just to give the other side, here's a paper that looks at some of the possible negative effects.
On the negative side, you'll see focus on things such as soy-formulas for babies. In my opinion, an ultra-processed food extremely different from mother's milk, that contains what amounts to massive phytoestrogen doses, is going to likely be problematic. The research even points to the epigenetic damages this may cause!
To know what to do for you along with phytoestrogens, you must look at the bigger picture.
Here's a hypothetical. If a man has high estrogen from lifestyle and lots of xenoestrogen exposure, and then adds a bunch of soy on top of it, that could make things worse. Absolutely it could because it is further driving things out of balance.
But if you have someone that is reasonably hormonally balanced and minimizes xenoestrogens already, then getting some phytoestrogens is likely not going to be problematic on the estrogen front. Since these compounds can absolutely have some beneficial effects, this could further help this person to be even healthier.
In summary…
Xenoestrogens = bad and should be avoided and minimized as much as possible.
Phytoestrogens = does not equal bad, in fact can be beneficial. But also can be overdone in some cases.
I hope that helps make sense of this confusing subject.
Latest posts by Logan Christopher
(see all)